President Williams' second visit into the district took him to Buffalo and Niagara Falls, where he discussed the Western New York economy with local officials, private sector representatives, and community leaders. A number of common themes emerged over two days of engagements, including the need for investment in new infrastructure and transportation, the reuse of existing resources, the importance of the Buffalo Niagara region's relationship to Canada, and the value of cooperation between public institutions, private interests, and nonprofit organizations.
Infrastructure, Investment, and Reuse
From the early 19th century into the 20th century, Buffalo played a key role in the U.S. economy as an inland port, connecting New York City with the Midwest via the Erie Canal and Lake Erie. This geographical advantage contributed to the development of the city as a major manufacturing center in the 20th century. While Buffalo has experienced a steep decline in population over the last several decades, the city still features many elements from its industrial past, such as factories, warehouses, housing, land, and rail infrastructure.
Our visit to the region began with a brief guided tour of Buffalo, during which Sam Magavern, director of the Partnership for the Public Good, explained that Buffalo faces a number of challenges as it attempts to recover from decades of decline. Certain parts of its historic infrastructure have fallen into complete disuse, such as Buffalo Central Terminal, a 17-story Art Deco railroad station that closed nearly 40 years ago. Mass transit linking workers to job centers is lacking, and the city's housing stock is old and energy inefficient, especially in light of the cold winters. The city also has a long history of housing discrimination and racial segregation that it has yet to overcome.
Still, on the positive side, Buffalo's history as an economic powerhouse means it has a number of legacy assets such as architecturally significant homes, industrial buildings, museums and parks, including a system of parks and parkways designed by Frederick Law Olmstead. While one result of the long population decline is that the city now owns many vacant lots, these can be considered a significant asset as they represent an opportunity for inclusive, holistic redevelopment. To that end, we learned on our tour that the city created a land trust to help prevent displacement of residents as the city's economic fortunes improve after years of disinvestment.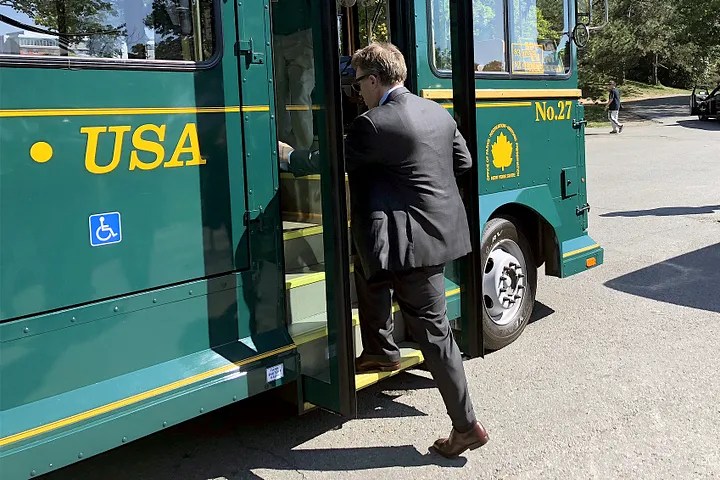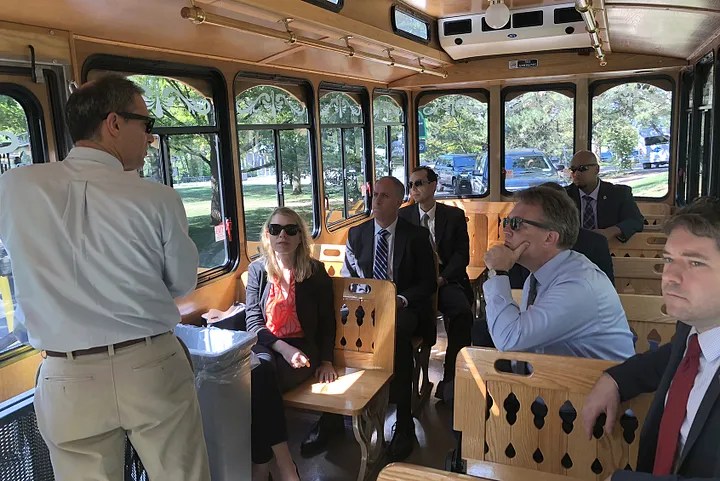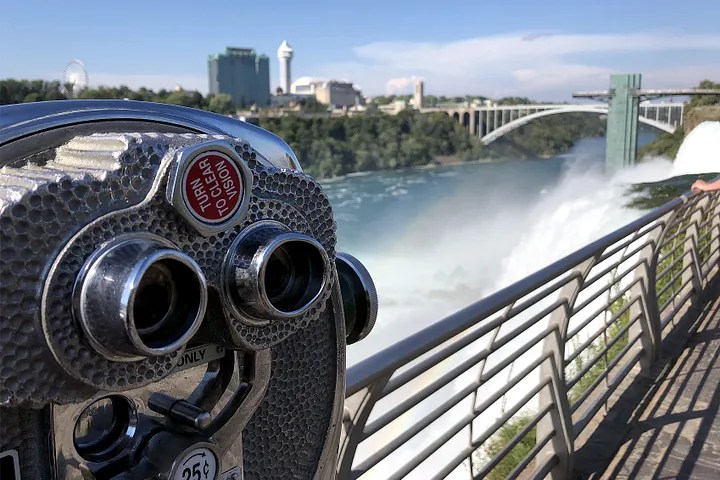 We saw first-hand two examples of how the city is leveraging and reusing its legacy infrastructure. The first is a development in downtown Buffalo called Canalside, which is a waterfront arts and entertainment district. Within Canalside is HarborCenter, a commercial complex that includes two full-size hockey rinks, a hotel, restaurants, and retail space. This development, opened in 2015, draws hockey-focused visitors from across the U.S. and Canada, among others. The second, Northland Workforce Training Center, is a new training center on the city's Eastside, which is designed to provide local workers with the skills needed for higher-paying careers in advanced manufacturing and energy — two industries in need of qualified workers. This center, which opened its doors to students in mid-October, expects to fill 20,000 advanced manufacturing jobs over the next ten years, according to Northland's leadership.
In Niagara Falls, we learned that the bulk of tourists who visit the waterfalls actually seek entertainment, lodging and dining options outside the area. Stakeholders in Niagara Falls highlighted strategies to increase tourism to other areas after visiting the waterfalls, including towns as far west as Lockport. These efforts aim to reconnect Niagara Falls to the waterfront, develop authentic outdoor experiences, and better promote locally owned and operated wineries and breweries. Challenges to their efforts include a shortened tourist season due to the cold weather, though area leaders are looking to extend the tourist season from the traditional Memorial Day — Labor Day to April through October.
Canada and the Cross-Border Economy
Attendees at business roundtable meetings in both Buffalo and Niagara Falls explained that Canada is an inextricable part of the regional economy, with local companies regularly doing business in the neighboring country "like it's the next county." Healthcare, education, tourism, and even professional sports, such as football and hockey, are key parts of the region's service economy that have large cross-border components. Consumers might come from Canada to shop, dine, or attend a sporting event — and when it becomes more difficult to enter the U.S., businesses in these parts of the service economy suffer. Likewise, regional business owners emphasized the significance of access to the southern Ontario market and the implications of potential restrictions on international trade.
A related challenge is that while residents of Buffalo and Niagara Falls see Canada as a major opportunity for economic development, state leaders from outside the region do not always consider the important role the neighboring country plays.
Cooperative Action to Achieve Shared Goals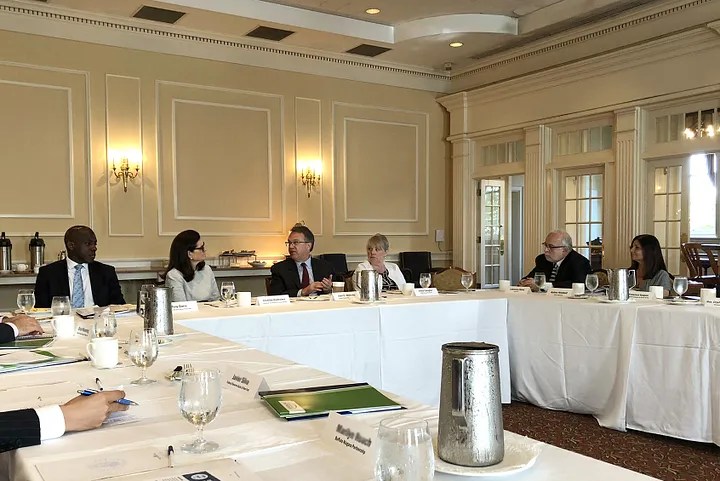 Throughout our meetings, we heard that cooperation among public and private organizations in the region is leading to better outcomes in the areas of economic development and workforce development. We saw examples in Canalside and Northland, which are backed by public and private funds.
Another common theme, which came across in our meetings with the Greater Buffalo Racial Equity Roundtable and Employ Buffalo Niagara especially, is that an outsized proportion of the region's residents are employed yet still live in poverty. This is a persistent issue and the nascent economic renaissance has not stopped poverty from increasing, one that all agree can only be addressed through collective action.
Workers in the region face a number of challenges, including low levels of awareness about potential career opportunities, a lack of financial resources that would allow them to pursue job training and skill development, and a lack of access to reliable transportation. Meanwhile, on the employer side, a major challenge has been how to ensure knowledge accumulated by longtime employees is transferred when they retire. When skilled workers exit the workforce after many years, employers need to be able to replace them. Advocates also identified a need for professional skills among potential and new employees. Leaders from these groups believe that fostering collaboration between employers, community groups, and education-training providers will help bridge the gap between employers and the local workforce — and the result will ultimately see middle-skill workers move up and out of poverty. The employer-led coalition is focused on creating an expanded and more inclusive economy, with various interests working together to develop talent through training backed by public and private money. Communitywide coordination between employers, advocacy groups, and workforce development professionals could make it easier to solve a number of related problems at once.
Next up
Our next regional visit will be to the Bronx on November 19. For more about the purpose of the New York Fed's regional visits and what we heard on earlier trips this year, see our posts on Brooklyn and Puerto Rico and the U.S. Virgin Islands.
This article was originally published by the New York Fed on Medium.
---
The views expressed in this article are those of the contributing authors and do not necessarily reflect the position of the New York Fed or the Federal Reserve System.