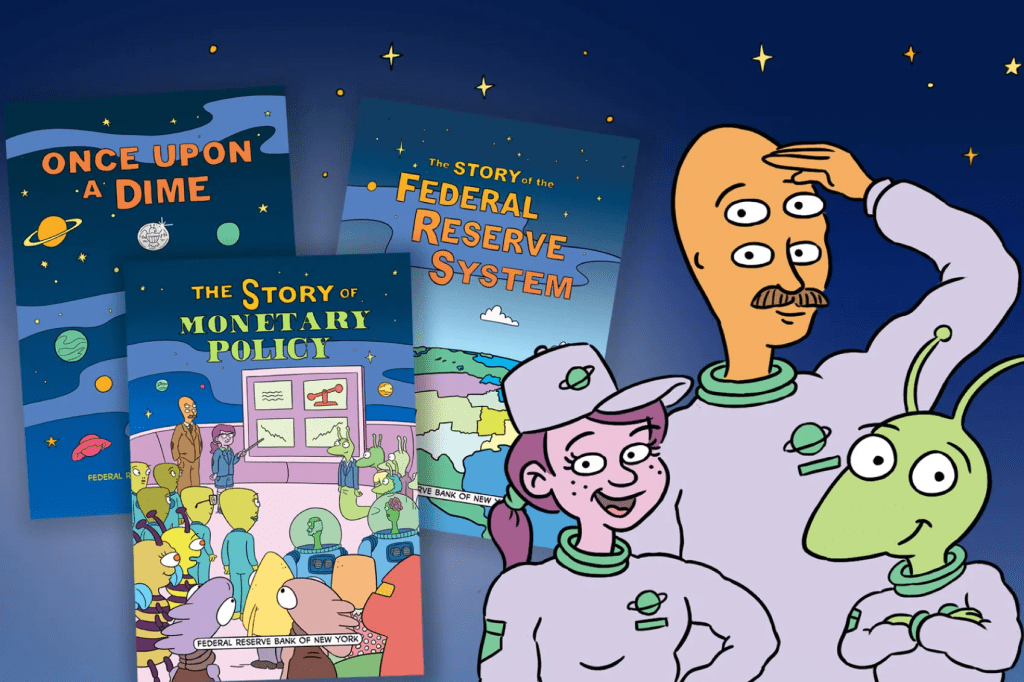 "Way, way out — at the edge of the universe — there's a little planet called Novus." So began the New York Fed's return to publishing comic books to promote economic literacy, especially among students from middle school through college.
The New York Fed has published educational comic books since the 1950s, and in 2017 we reintroduced the series with an intergalactic theme to help bring core economics lessons to today's audiences. We recently published the third installment of the new series. These comic books are a resource for educators looking to help students understand economic principles such as employment and inflation, as well as the Federal Reserve's role in the financial system. Through a playful setting and narratives, they are designed to make complex concepts accessible.
In the latest issue, The Story of Monetary Policy, friendly characters from Planet Novus tour the galaxy to advise other worlds on how to conduct monetary policy and help keep economies stable.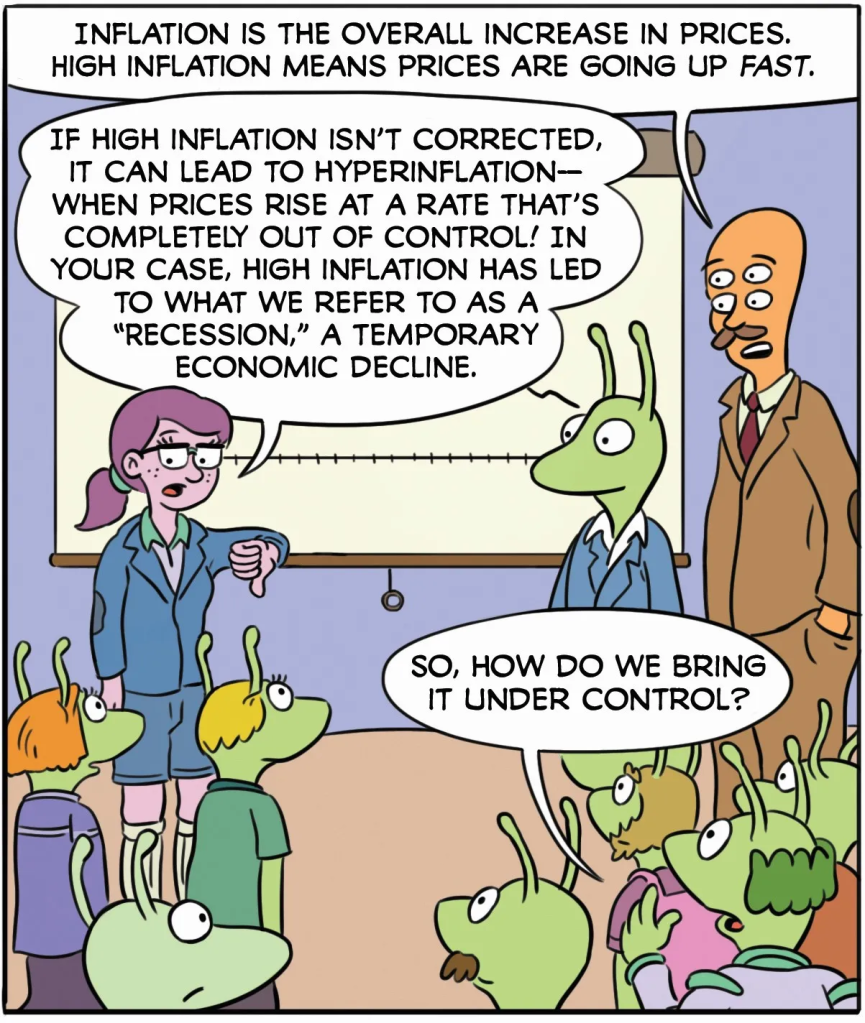 To accompany each issue in the series, the New York Fed produced classroom lesson plans for both middle school and high school that build off each story and the experiences of its characters. These lesson plans, which follow the College, Career, and Civic Life (C3) framework developed by the National Council for the Social Studies, challenge students to answer questions about the economy, analyze charts and graphs, read historical texts, create timelines and business proposals, and simulate the function of markets. They include activities, worksheets, and guidelines to promote classroom discussion and encourage students to engage with their communities.
The Story of Monetary Policy continues the conceit of the previous issues in the new series. The inaugural issue, Once Upon a Dime, introduced the denizens of Planet Novus alongside economic concepts such as barter, currency, and banking. In the second issue, The Story of the Federal Reserve System, these characters visit Earth to help solve a monetary crisis on their home planet.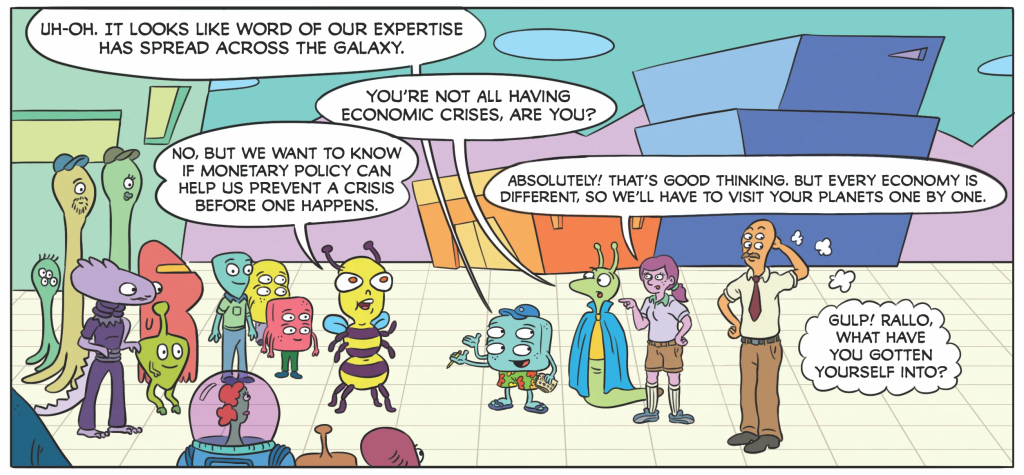 The comic book series is part of the New York Fed's broader economic education efforts, including programs and resources for students, teachers, and the public, developed to teach basic economic literacy and increase awareness about the roles and responsibilities of the Federal Reserve System. The three issues with the corresponding lesson plans are available at no cost. Stay tuned for more adventures for the characters from Planet Novus before long.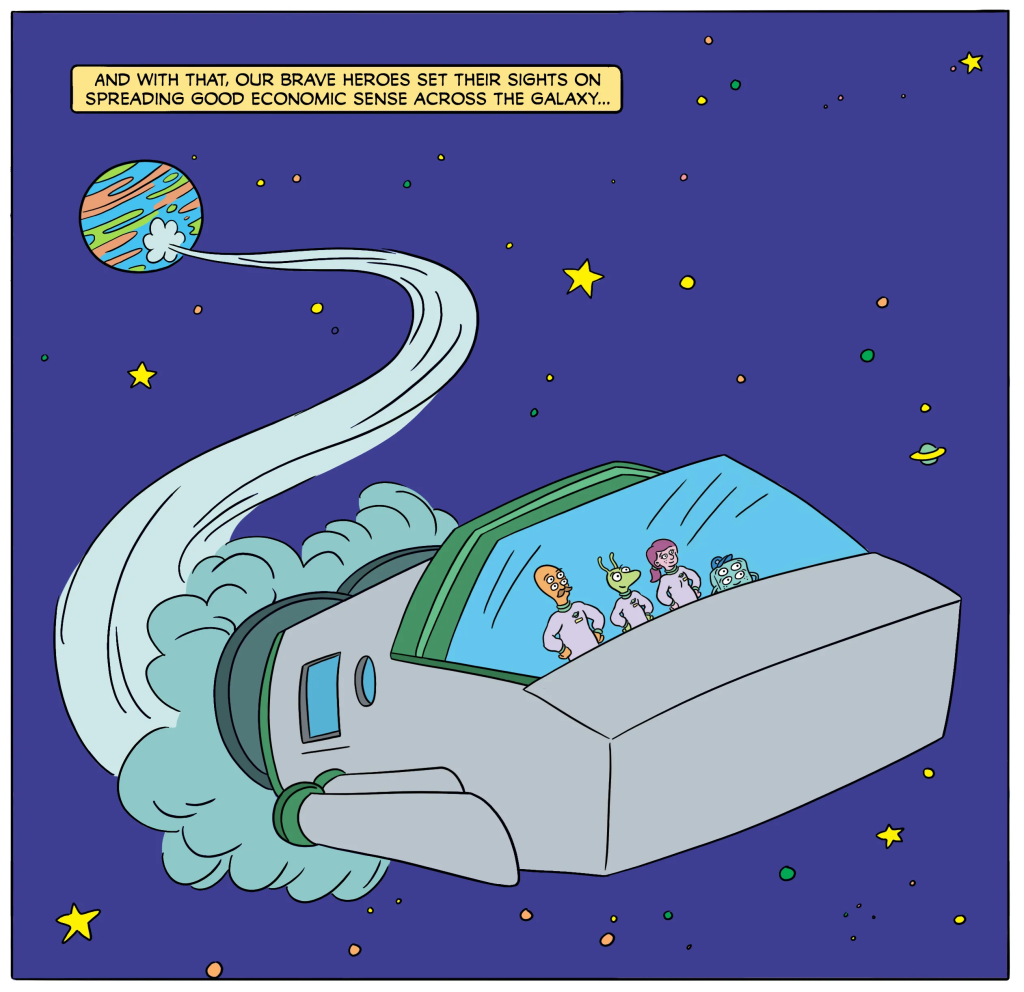 This article was originally published by the New York Fed on Medium.
---
The views expressed in this article are those of the contributing authors and do not necessarily reflect the position of the New York Fed or the Federal Reserve System.