A recap of insights, analysis and discussions we don't want you to miss. Each month we compile key highlights from selected publications, events and perspectives to provide you with a deeper look into the work we do at the New York Fed.
Speech: President Dudley Talks Local/National Economy in Queens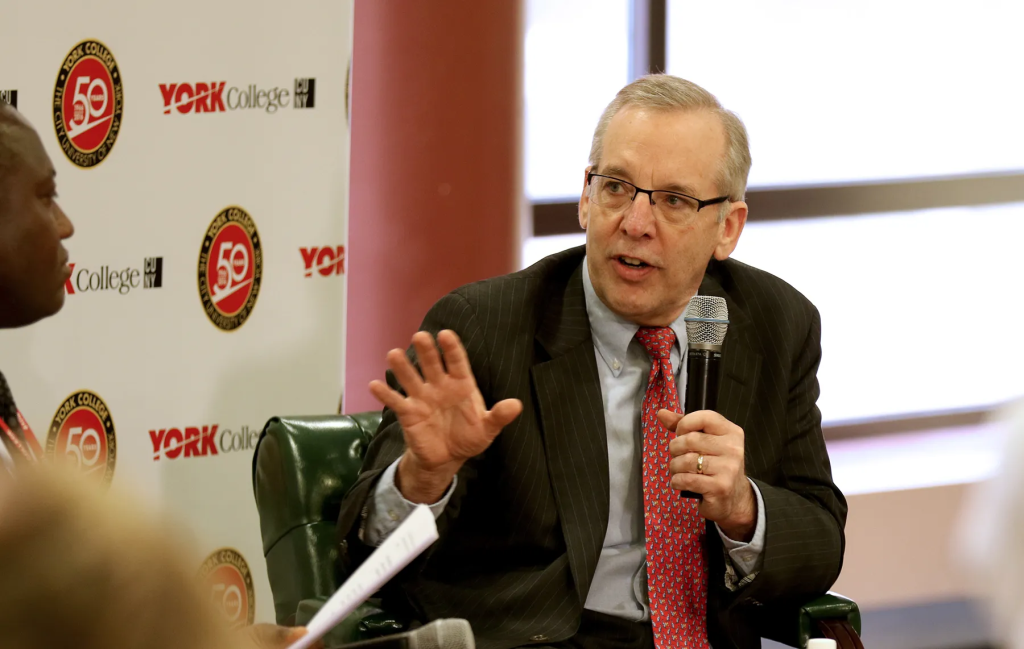 President William C. Dudley met with businesses, educators and constituents during his Queens regional trip, one of many where we gather and share insights with our constituents in the Second District.
The day's stops included:
A roundtable breakfast with small business owners in Corona
A fireside chat with business and economics students at York College in Jamaica
A meeting with members of the Asian Americans for Equality in Flushing
Informal conversations with leadership of LaGuardia Community College and JetBlue in Long Island City
In the discussion at York College, President Dudley noted the New York City economy has become more diversified with tourism, manufacturing and technology playing an increased role. "In general, it is a pretty positive story," although the city "still faces challenges," he said.
Remarks: Dudley Discusses Banking Culture at London Events
While in London, President Dudley delivered remarks on culture in the financial services industry at two events. First, at a breakfast meeting at Mansion House sponsored by the Banking Standards Board, he spoke about reforming culture for the long term.
"The culture of every bank should share a common theme: stewardship — a word that implies professional care, exercised year after year for the benefit of the firm and its stakeholders."
He later joined Governor Mark Carney and the Lord Thomas of Cwmgiedd, Lord Chief Justice of England and Wales, for a panel discussion at a Bank of England event titled "Worthy of Trust? Law, Ethics and Culture in Banking." Dudley noted:
"The most dangerous type of culture in finance occurs when people see something wrong but do not say something."
Report: Unmet Credit Needs and Financial Fragility
Our semi-annual Survey of Consumer Expectations (SCE) Credit Access Survey revealed an increase in unmet credit demand of U.S. consumers and a rise in the proportion of "discouraged" consumers. This survey also introduced two new series that measure the financial fragility of U.S. households — the probability of needing $2,000 for an unexpected expense in the next month and the probability of being able to come up with $2,000 if an unexpected need arose within the next month. There was a slight improvement in these measures from a year ago.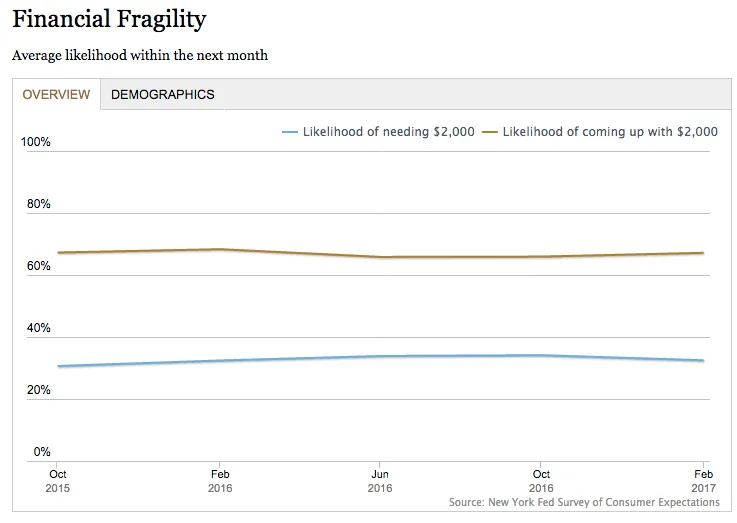 About the Report: The Survey of Consumer Expectations Credit Access Survey is issued every four months and focuses on consumers' experiences and expectations regarding credit demand.
Analysis: Who's Paying the Real Premium for FHA Mortgage Insurance?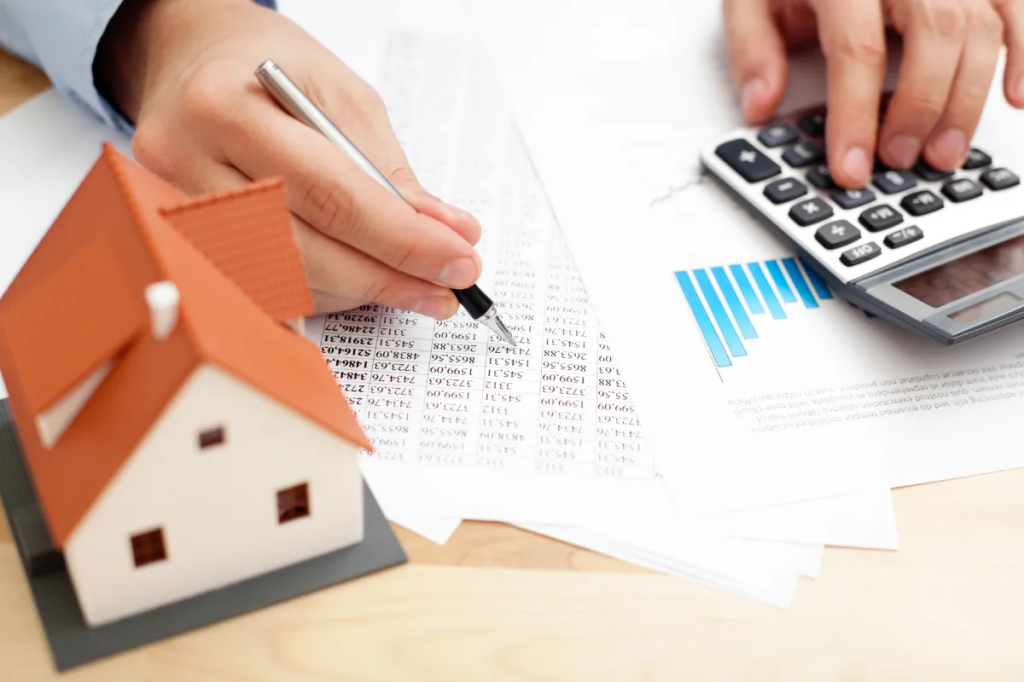 Federal Housing Administration (FHA) mortgages help make owning a home more accessible to applicants with lower credit scores and smaller down payments. Our economists examine if non-defaulters carry more of the FHA mortgage insurance burden than defaulters.
Turning the Tables So Professors Go to Class on Monetary Policy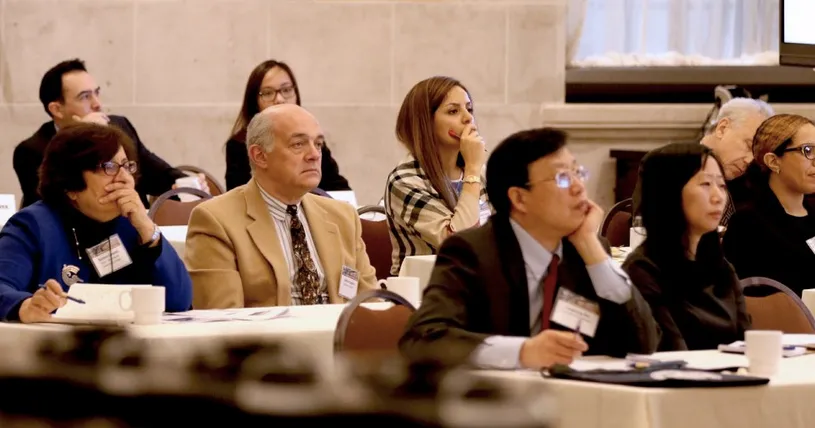 Each year in March, we invite 90 college and university professors who teach economics, finance or business in the Second District to participate in The Federal Reserve in the 21st Century Symposium, two days of workshops on monetary policy and financial stability. This year, the professors heard from our economists and senior staff on topics ranging from the frameworks of monetary policy and financial stability to forecasting models and policy implementation.
Video Contest Shines Spotlight on the Role of Small Businesses in Puerto Rico
We recently announced the winner of our 2016 Puerto Rico Financial Awareness Video Contest. The winning video, which provides tips on how to start and finance a small business, was produced by students from the Universidad del Sagrado Corazón.
Teams of college and university students in Puerto Rico compete by producing 30-second videos to educate young adults' knowledge of economics, finance and business.
Stay Connected
Sign Up for In Review — our monthly email that highlights the latest work from the New York Fed.
Download our Economic Research Tracker to your iPhone® or iPad®
This article was originally published by the New York Fed on Medium.
---
The views expressed in this article are those of the contributing authors and do not necessarily reflect the position of the New York Fed or the Federal Reserve System.