A recap of insights, analysis, and discussions we don't want you to miss. Each month we compile key highlights from selected publications, events, and perspectives to provide you with a deeper look into the work we do at the New York Fed.
John C. Williams Named President and CEO of New York Fed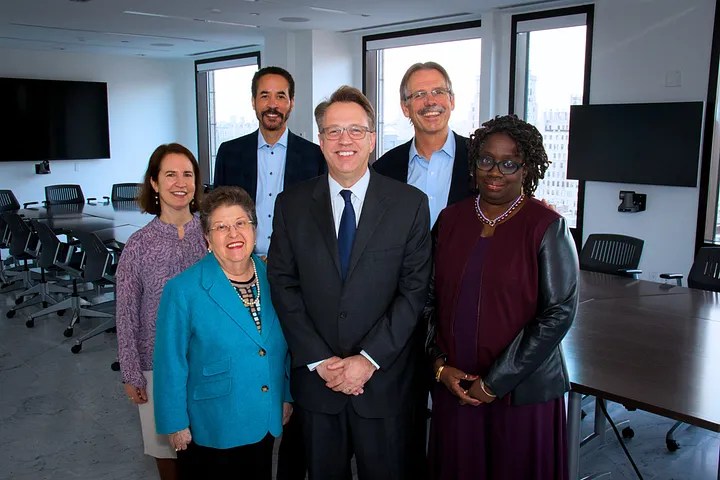 On June 18, 2018, John C. Williams will become the next president and CEO following President William C. Dudley's retirement on June 17. Mr. Williams is currently the president and chief executive officer of the Federal Reserve Bank of San Francisco, a role he has held since March 1, 2011, when he succeeded former Federal Reserve Chair Janet Yellen.
"After a thorough process, my fellow search committee members and I felt that John best fulfilled the criteria we'd identified as well as the feedback we'd received through our public outreach efforts," said Sara Horowitz, founder of the Freelancers Union, chair of the New York Fed's Board of Directors, and co-chair of the search committee.
"I am honored to have the opportunity to lead the Federal Reserve Bank of New York and to represent the diverse needs and economic challenges of all people living and working in the Federal Reserve's Second District and as a member of the Federal Open Market Committee," said Mr. Williams.
Mr. Williams is widely seen as an influential voice on the Federal Open Market Committee and was a strong advocate for policies to stimulate the economy and get Americans back to work in the wake of the Great Recession.
Launched: Three New Reference Rates, Including Alternative to LIBOR
On April 3, the New York Fed began publishing three rates that will provide greater transparency into conditions in the Treasury repo market and make the financial markets more efficient. The rates, which are based on overnight repurchase agreement (repo) transactions collateralized by Treasury securities, include:
Earlier this year, Senior Vice President Lorie Logan discussed the New York Fed's history producing reference rates and the decision to produce not just one new reference rate, but three. The rates are the result of a multi-year effort to identify viable alternatives to U.S. dollar LIBOR, reduce reliance on LIBOR, and strengthen financial contracts to better address the risk of a cessation of LIBOR.
The new rates are fully in compliance with international best practices, and in June 2017, the Alternative Reference Rates Committee (ARRC) selected the SOFR as its recommended alternative to U.S. dollar LIBOR.
"Reference rates are commonly used to link payments in a wide variety of financial contracts such as loans, mortgages or interest rate derivatives. By standardizing the process it helps make the financial markets more efficient." — Lorie Logan, SVP & Head of MOMA, Markets Group
The New York Fed will publish the rates, along with related statistics on volume and dollar amounts, each business day at approximately 8:00 a.m. ET. Subscribe to get daily email alerts for the new rates.
Speech: President Dudley on the Importance of Incentives in Ensuring a Resilient and Robust Financial System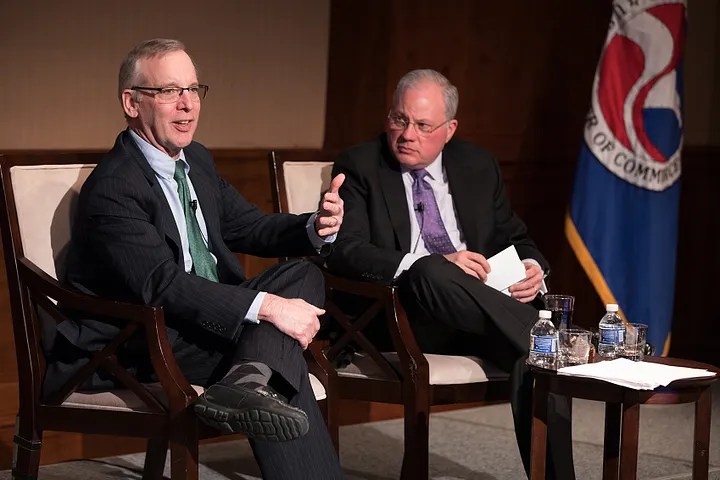 In his remarks at the U.S. Chamber of Commerce in Washington, D.C., President Dudley outlined the progress made over the past decade to address deficiencies in the financial system that were exposed during the financial crisis. Recognizing that many systemic improvements are now in place, Dudley discussed how poor banking incentives contribute to costly breakdowns, including aggressive cross-selling practices for bank employees.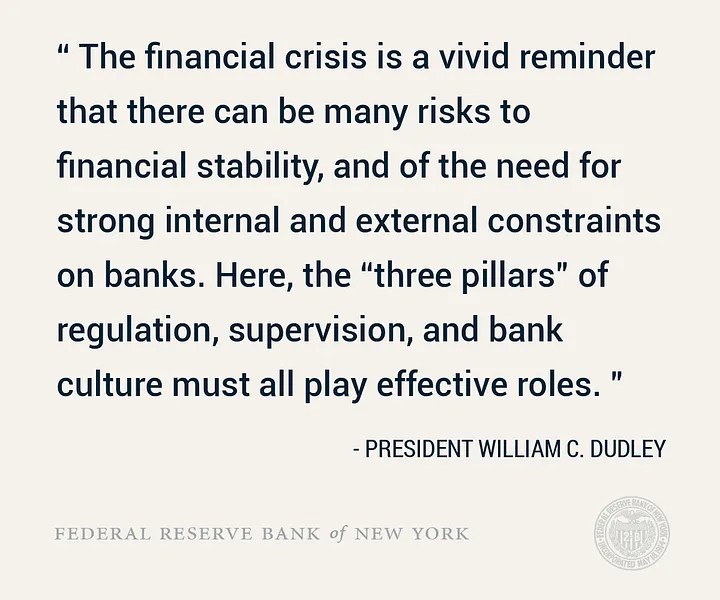 Read more about the complementary roles of regulation, supervision, and culture in both providing positive incentives in financial services and promoting confidence and trust among its customers and counterparties.
Education: They're Up to the (Fed) Challenge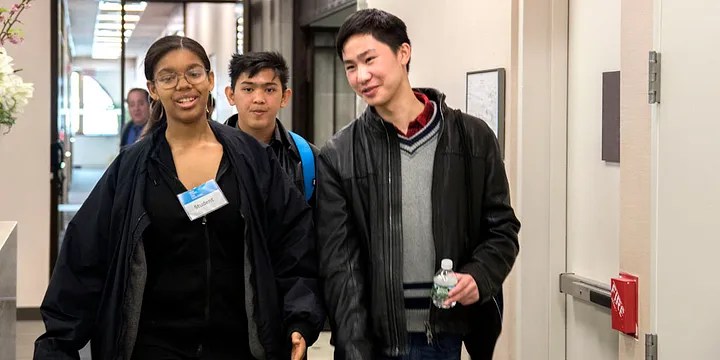 After months of preparation, student teams from 42 schools kicked-off the 2018 High School Fed Challenge, a competition in which students play the role of policymakers by analyzing economic conditions and recommending a course for monetary policy. Stay tuned for the results of this year's finals later this month!
About the Fed Challenge: A tradition since 1995, the High School Fed Challenge is a competition for teams of high school students from the Second District. To compete, teams demonstrate their understanding of macroeconomics and monetary policy by delivering a presentation and fielding a Q&A session with expert judges in the field of economics and monetary policy — our very own economists and staff.
Focus on Puerto Rico: Small Business Credit Survey, Resource Center & More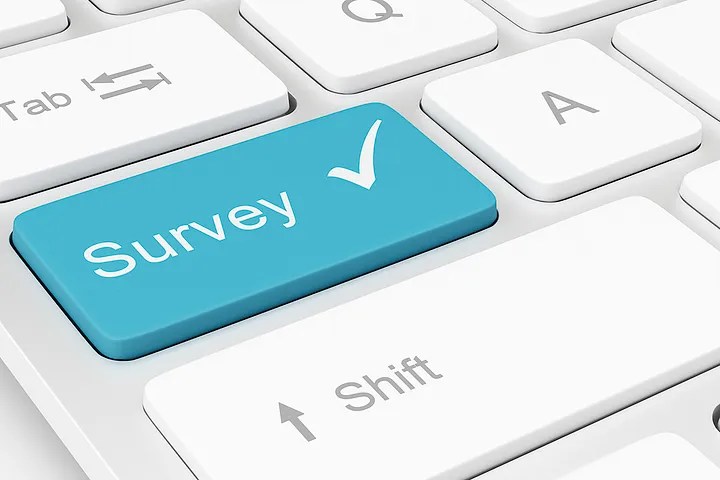 The Puerto Rico Small Business Credit Survey is a joint effort by the New York Fed and a network of local partners to gather information on business conditions, including firms' financing needs and ability to access credit. In the aftermath of Hurricanes Irma and Maria, the survey will shed light on the current business climate in Puerto Rico and help financial providers to better understand the issues that small businesses are facing after the disaster. Results are released annually, so this survey's results and future reports may provide useful benchmarks as recovery efforts proceed.
The survey will be open through May 2018, and the New York Fed plans to release a report on the survey later this year. Take the survey.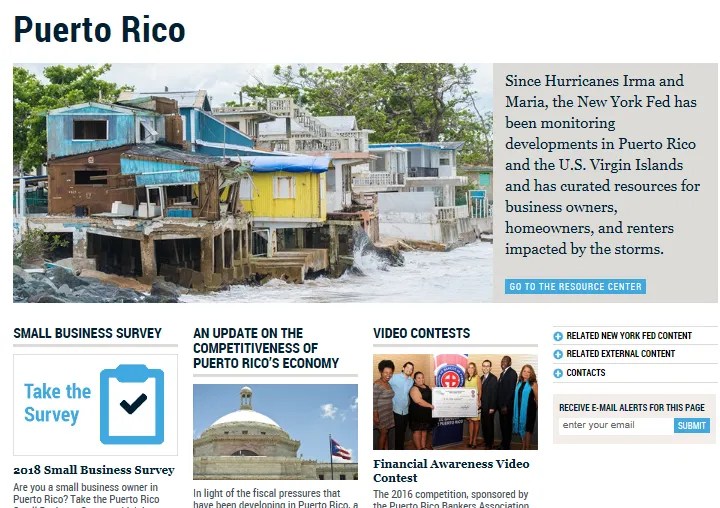 Since Hurricanes Irma and Maria, the New York Fed has been monitoring developments in Puerto Rico and the U.S. Virgin Islands and has curated resources for business owners, homeowners, and renters impacted by the storms. For additional information, view the materials from our economic press briefing and President Dudley's remarks.
Education: Kids, Economics & Comic Books?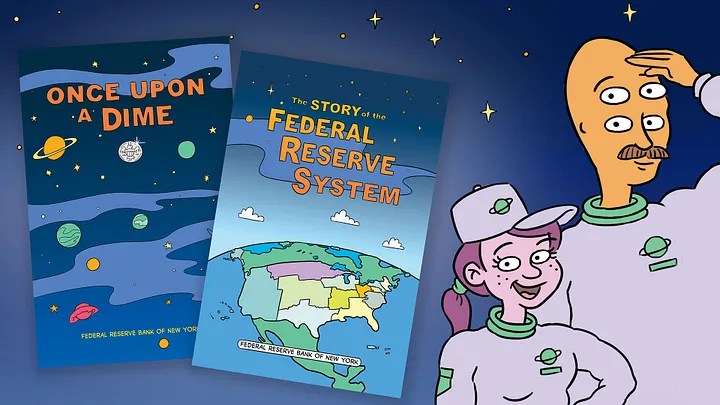 We've just released "The Story of the Federal Reserve System," the second issue in our educational comic book series, which explains the Federal Reserve's structure and key responsibilities. Created for students at the middle school, high school, and introductory college levels, it follows the citizens on Planet Novus as they work to develop their own stable economy.
You can download the new comic book, as well as our first issue, "Once Upon a Dime" — which covers basic financial concepts such as currency, credit, bartering, and banking on Planet Novus — along with lesson plans for the classroom, at no charge.
Stay Connected
Sign Up for In Review — our monthly email that highlights the latest work from the New York Fed.
Download our Economic Research Tracker to your iPhone® or iPad®
This article was originally published by the New York Fed on Medium.
---
The views expressed in this article are those of the contributing authors and do not necessarily reflect the position of the New York Fed or the Federal Reserve System.