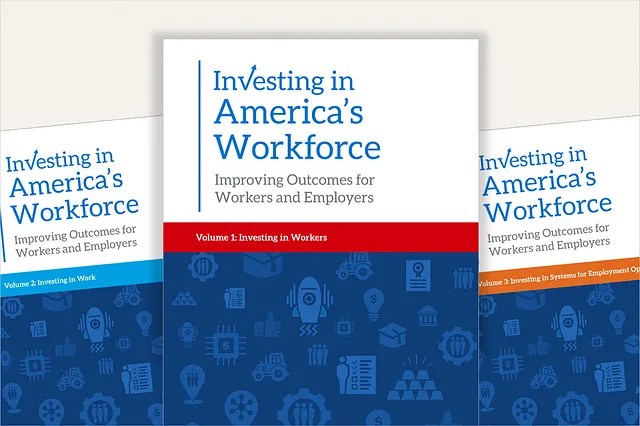 Since the release of the three-volume book Investing in America's Workforce: Improving Outcomes for Workers and Employers last year, the Federal Reserve System and its community and business partners have continued to engage communities and workforce stakeholders on the research and promising practices highlighted in the publication. (For a refresh of the main topics the book covers, see this post from Carl E. Van Horn, Distinguished Professor of Public Policy and Director of John J. Heldrich Center for Workforce Development at Rutgers University.)
Book Launch Event
At the publication's launch event, which we co-hosted with the Atlanta Fed, more than 20 national and local workforce practitioners discussed promising approaches to investing in workforce development. New York Fed President John Williams provided opening remarks, during which he noted that "sustainable economic growth and thus broad-based prosperity is dependent on a healthy job market, one in which employers can find the skills they need and workers find jobs that allow them to grow and move up the economic ladder. The challenge is developing a system that encompasses both and is accessible to all those seeking a job."
These comments underscored the rationale for the publication and served to set up the panel discussions about why and how workforce investment can lead to economic growth in our communities. (Videos of the panel discussions are available on the IAW website. For more highlights from the panel discussions — such as opportunities to invest in adult workers, the need for policy intervention to lift low-wage work, and the role of technology in the future of work — see the Atlanta Fed's recap of the launch event.)
#InvestInWork Video Campaign
Earlier this year, the New York Fed and community partners rolled out the Investing in America's Workforce Social Media Video Campaign. We invited publication contributors and panelists from the event to participate in a series of videos to highlight their insights and discuss why the publication should be a go-to guide for community and workforce practitioners, employers, and policy influencers to learn about promising practices and policies. You can watch the overview video below.
Investing in America's Workforce Special Topic Briefs
In an effort to continue studying themes captured in the 2017 report Investing in America's Workforce: Report on Workforce Development Needs and Opportunities, the Federal Reserve's community development teams conducted a series of regional meetings in 2018 with stakeholders across public, private, and nonprofit sectors focused on several workforce-related topics. These meetings and ongoing community development research led to a series of special topic briefs that the Federal Reserve System will release this year. Each brief will examine a workforce development topic selected based on community interest, feedback from regional roundtables, and ongoing research efforts.
The first special topic brief in this series, "Strengthening Workforce Development in Rural Areas", co-authored by Ashley Bozarth and Whitney M. Strifler from the Federal Reserve Bank of Atlanta, was recently published. It explores investment opportunities to address common rural workforce challenges, such as a declining share of working-age individuals and greater distances to major centers of employment. Among other themes, upcoming special topic briefs will examine the Pay for Success financing model and research into Job Separations and Labor Market Disparities. Check back each month for new releases of the special topic briefs.
Investing in America's Workforce Events in the Second District
Investing in America's Workforce contains a wealth of knowledge and insight, and we are working with community partners to bring this resource to communities across the Fed's Second District, with authors invited to participate in these events. We recently presented at the annual meeting of the Long Island Workforce Development Board to discuss the IAW initiative and provide an overview of the themes covered in the publication. Ahead of that event, our work was highlighted in a column on Innovate Long Island by Rosalie Drago of the Workforce Development Institute. Up next, we will be heading to Rochester, NY for the annual Venture Jobs Foundation Prosperity Conference on April 11. Later this year, we will be planning additional IAW community events across the District.
Follow Along
Follow the New York Fed on Twitter at @NewYorkFed, and join the conversation on Investing in America's Workforce by using the hashtag #InvestInWork. Also, look for clips about the publication from authors as part of our #WorkforceWednesdays campaign.
This article was originally published by the New York Fed on Medium.
---
The views expressed in this article are those of the contributing authors and do not necessarily reflect the position of the New York Fed or the Federal Reserve System.