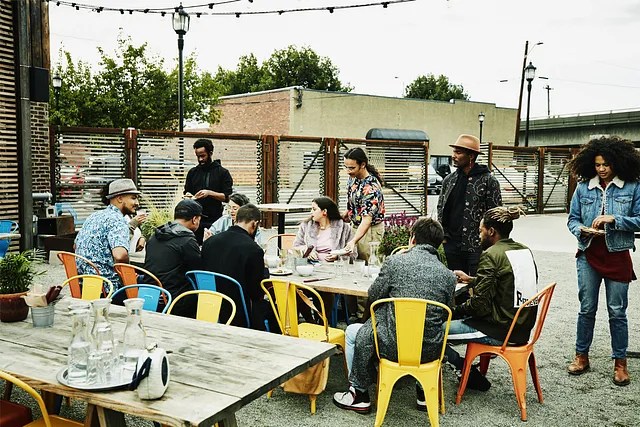 The New York Fed's Community Development team has adopted a new strategy, focusing its energies on three key areas: health, household income, and climate change. Our goal is to connect emerging solutions — especially those focused on fostering racial equity and improving life for underserved communities — with funding. This post is the first of three about these focus areas.
As the last year has made tragically clear, a healthy economy requires healthy people. The U.S. is among the world's highest spenders on healthcare, yet still lags other developed economies in terms of quality of care and life expectancy. Worse, much of our spending does not address the root causes of poor health, focusing on treatment rather than prevention.
Economic mobility stagnates when poverty is both a cause and consequence of poor health — and when healthcare costs themselves push people into poverty. In the U.S., we spend more than $1 trillion per year on chronic conditions stemming from poverty. Healthcare affordability also remains stubbornly unequal, so much so that the high cost of healthcare regularly pushes people into poverty. Indeed, almost seven million people fell below the poverty line in 2014 due to unexpected health care costs.
What if there were a better way — a smarter way — to think about health? A way that would also lift millions out of poverty, improve childhood outcomes, and increase the nation's overall economic performance? As early as the 1960s, experts in the field have been saying that there is. According to the CDC, to address the root causes of poor health, we must focus on the social determinants of health — factors such as family economic stability, access to quality education and healthcare, and whether families live in neighborhoods with easy access to parks and healthy food options. These and other key factors have significant impacts on health throughout a person's life.
Such factors are disproportionately limited in communities of color. By focusing on these determinants as we work to advance health equity, we can build stronger communities and a healthier economy for all. This new initiative contributes to creating a healthier workforce that could lead to better labor market outcomes for all segments of the population.
This is why the New York Fed's Community Development team will, over the next several years, elevate groundbreaking ideas that bolster the economic drivers of health, while seeking to match these ideas with funding.
Unequal Burden of Healthcare Spending
Not only is healthcare expensive in the U.S., but the cost burden is unequally distributed. Households are ultimately responsible for nearly one-third of the country's health spending, with families of color most often having the most difficulty paying. Indeed, Hispanic and Non-Hispanic Black adults have a higher prevalence of chronic disease, a higher likelihood of struggling to pay medical bills, and lower insurance coverage rates. As a result, these families face high medical bills stemming from preventable diseases. If these funds could be directed toward avoiding chronic diseases in the first place, we might see economic mobility improve.
Sizing Health Inequity and Measuring Impacts
A commonly used indicator of health equity is life expectancy. Over the past decade, life expectancy in the U.S. plateaued and then began trending lower. Then, last year, COVID-19 hit, and average life expectancy fell by a whole year — from 78.8 in 2019 to 77.8 in 2020. The drop in expected lifespan is even more acute for certain segments of society, including Black and Hispanic individuals, whose lifespans dropped by two years or more. If people of color are experiencing worse health outcomes than their white counterparts, how can they expect to have the same opportunities to contribute to the economy or generate wealth?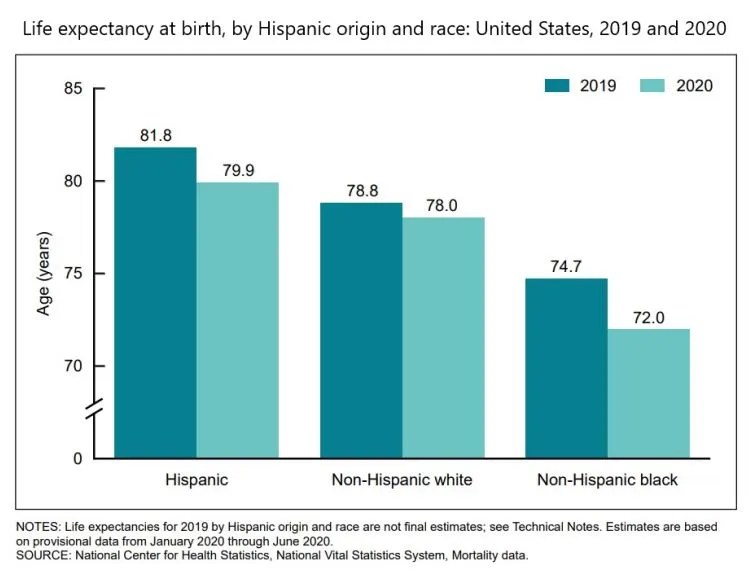 Committing to the Work
With a new focus area comes the commitment of resources. To tackle such a large issue, we need to connect capital to innovative projects. The Community Development team plans to build expertise in identifying and cultivating a network of capital providers, understanding emerging sources of capital in connection with health opportunities, and driving capital to groundbreaking ideas.
We will also benefit from expert perspectives and advice from organizations that represent low- and moderate-income communities, and a variety of health experts. To keep abreast of trends and opportunities in health, the team has gathered a "Kitchen Cabinet" — an advisory group comprised of representatives of charities, nonprofits, and think tanks focused on increasing health equity in the Second District and beyond. This Kitchen Cabinet is a necessary complement to our public forums and research and will provide the New York Fed with timely developments and opportunities related to the social determinants of health. By building a vast network of key players and experts, the Community Development team is well suited to have broad, positive impact on the economy.
We're just starting on this journey, and there is a lot of work ahead. For more on our efforts, please see the Community Development page on newyorkfed.org. And if you believe there's something in the health field we should be reading, watching, or listening to, please send it to NY.Fed.CommunityDevelopment@ny.frb.org. We look forward to hearing from you.
This article was originally published by the New York Fed on Medium.
---
The views expressed in this article are those of the contributing authors and do not necessarily reflect the position of the New York Fed or the Federal Reserve System.