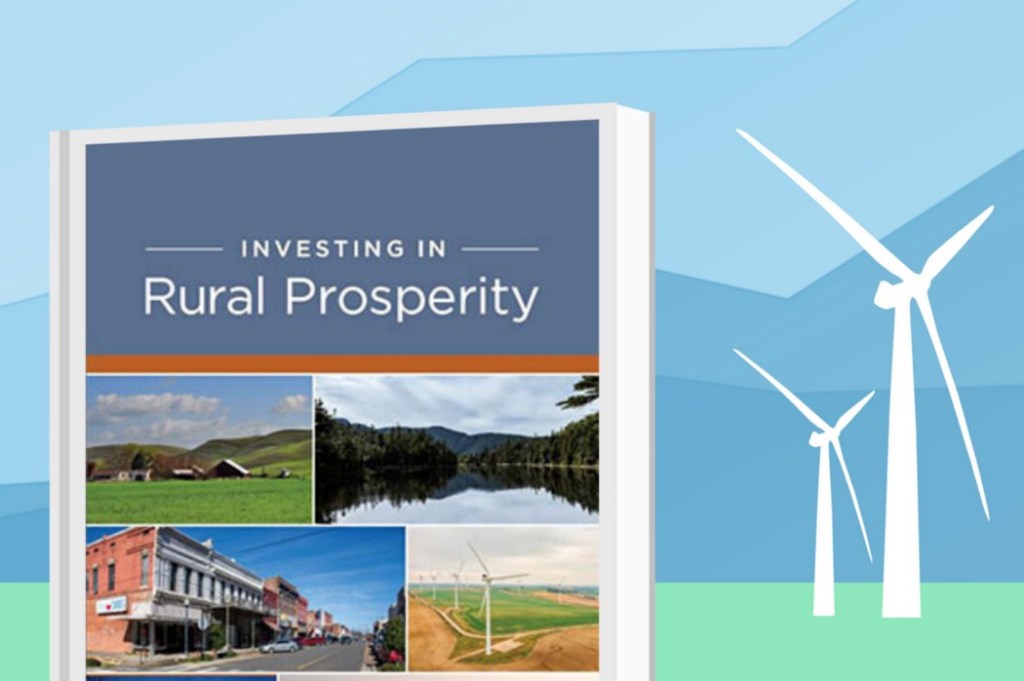 On May 24, the New York Fed, in collaboration with the Federal Reserve Board of Governors, is hosting "Investing in Rural Prosperity," an event that will explore opportunities to advance shared economic prosperity in rural communities across the U.S. The event will draw from, and build on, the insights in a book by the same name that I co-edited and which was published by the St. Louis Fed in collaboration with the Board of Governors.
Several contributors to the book will speak at next week's event, and some of their key insights are summarized below.
Fostering shared economic prosperity in rural America: Daniel Paul Davis and I co-authored a chapter in which we propose a new framework for advancing rural economic prosperity that is accessible to all. The "TRIC" framework is named for its four principles: Tailored, Resilient, Inclusive, and Collaborative.
Taking a tailored approach to rural development means fashioning your strategy around the goals and the assets of the community, as well as the community's organizational capacity, and avoiding the use of a one-size-fits-all model.
Designing a rural development approach that is resilient to the sudden shocks and gradual changes that will affect the community over time requires building adaptability into your efforts from the start. It means continuously evaluating the effectiveness of your efforts, and not being overly reliant on one person, one organization, or one industry.
Taking an inclusive approach involves more than just inviting a couple of people into the existing process to expand representation of diverse groups. Inclusiveness often means rethinking the community's entire approach, including by ensuring traditionally marginalized groups have decision-making power and are likely to benefit from development activities.
Being truly collaborative requires bringing together leaders from the nonprofit, for-profit, financial, government, and philanthropic sectors from throughout the community and the broader region to formulate and implement rural development strategies.
Developing climatic capacity in rural places: Caitlin Cain, a vice president of Local Initiatives Support Corporation (LISC) and the director of Rural LISC, wrote a chapter that highlights the increasing challenges rural communities face due to climate change and explores key opportunities to invest in their adaptive capacity. She makes several key points regarding the vulnerabilities and adaptability of rural communities in the face of climate change:
Rural communities often face a greater threat from climate change than urban areas because they have less infrastructure and adaptive capacity, and because many already have highly stressed social, economic, and environmental systems.
The remote and isolated nature of many rural communities becomes especially problematic during and after natural disasters, when access to employment, health care, emergency services, and other critical needs may deteriorate even further.
The existence of fewer employers, workforce opportunities, and transferrable skills constrains the adaptability of many rural economies and increases the difficulty of rebounding post-disaster.
To increase the adaptive capacity of rural communities, Cain proposes investing in the enhancement of capacities at both the community and individual levels.
Fostering rural prosperity through stewardship: Rob Riley, the president of the Northern Forest Center, co-authored a chapter with Nils Christoffersen of Wallowa Resources that outlines an approach to rural development that aligns land and resource stewardship with rural economic development, job creation, and community wealth-building: what they call the "Stewardship Economy."
Riley describes the Center's work as a regional innovation and investment partner that connects people and local economies to the landscape of the Northern Forest, which consists of 30 million acres of forest across Maine, New Hampshire, Vermont, and New York. The Center operates at both the regional and individual community levels.
At the regional level, the Center brings attention to the challenge of rural decline and revival and to strategies for leveraging emerging technologies, activities, and markets to reinvigorate and reimagine places and industries. It also tries to advance state or federal policies and programs that support innovative and integrated initiatives.
At the community level, the Center uses its expertise in convening, facilitating, fundraising, and managing projects to partner with local stakeholders, identify catalytic projects, and invest integrated capital.
Riley highlighted the Center's work in Millinocket, Maine, as one example of their approach. This included Wi-Fi installation and help with digital marketing for local businesses, launching an impact investment fund to address a lack of quality rental housing, and helping secure financing to renovate the local public library to position it as a hub of the community's revitalization efforts.
The event on May 24, which includes the option to participate virtually and in-person, will explore these insights alongside related case studies from rural communities across the U.S. Other sessions at the event will cover:
Local initiatives to advance digital inclusion in rural New York
Rural partnerships between the health sector and community development
Case studies from France that use culture, nature, and innovation to revitalize smaller communities
For more, see the event page.
Andrew Dumont is a senior community development analyst at the Federal Reserve Board and co-editor of Investing in Rural Prosperity, a book published by the St. Louis Fed and the Board of Governors.
This article was originally published by the New York Fed on Medium.
---
The views expressed in this article are those of the contributing authors and do not necessarily reflect the position of the New York Fed or the Federal Reserve System.