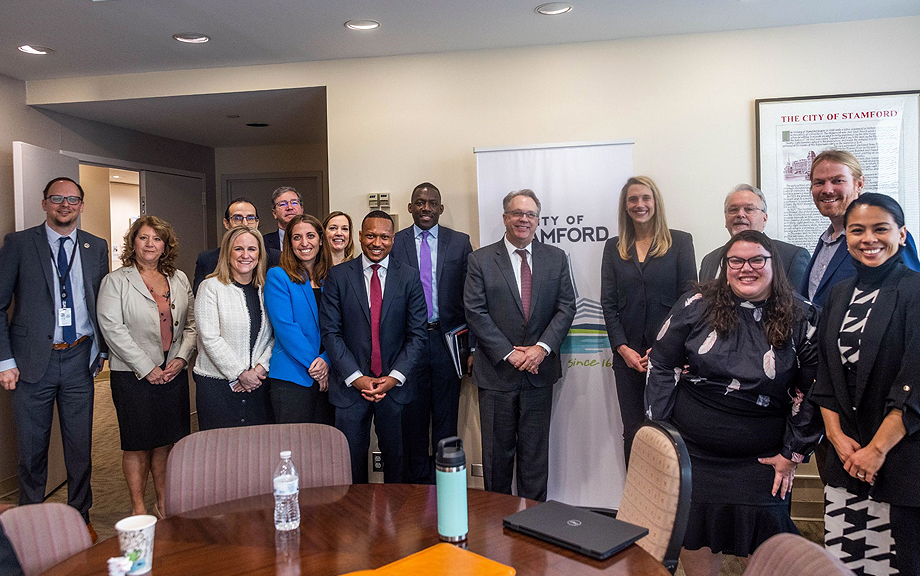 On March 31, New York Fed President John C. Williams traveled to Fairfield County, Connecticut, to hear from local stakeholders about economic conditions in the region. Fairfield County is part of the Federal Reserve's Second District, which also encompasses New York State, Northern New Jersey, Puerto Rico, and the U.S. Virgin Islands. During the daylong visit, President Williams met with government officials, students, business owners, job seekers, and nonprofit and community leaders. Here are the key themes that emerged in these meetings and discussions:
Growing Population, Growing Businesses
Fairfield is the only county in Connecticut whose population grew over the last decade. That growth is contributing to challenges in areas such as transportation, housing affordability, school overcrowding, and strains on city services.
The region also hasn't completely rebounded from the disruption of the pandemic. Stamford officials noted that the vacancy rate for commercial office space is currently around 30%, in part due to an increase in remote work. As a result, there is less foot traffic in the city's downtown central business district, which creates challenges for small businesses.
As the area tries to attract more businesses and residents, leaders tout safety and proximity to New York City as selling points. Stamford is trying to leverage its class A office space, which costs 50% less than comparable space in New York City, according to city officials. City leaders say Stamford is seeing success, as some media and entertainment companies, as well as fintech and biotech companies, have moved to the area. Stamford recently announced the Global Stamford Initiative, promoting the city as a destination for international businesses seeking to relocate.
At the same time, population growth has strained infrastructure. To address overcrowded schools, the city of Danbury recently purchased a commercial building it will convert into a school for middle and high school students. More generally, Danbury's infrastructure, which depends on the local tax base, is operating at capacity. When the commercial tax base declines, the burden shifts to local fees and real estate taxes to make up the difference.
Transportation is another challenge for the region. While good transportation infrastructure exists between New York City and Fairfield County, traffic congestion is a challenge within the county, particularly between Bridgeport and lower Fairfield County. One business owner reported that two of his employees travel two hours each way to come to work. Separately, a worker referred to Connecticut as "a car state," while talking about the expense of car upkeep and declines in bus services.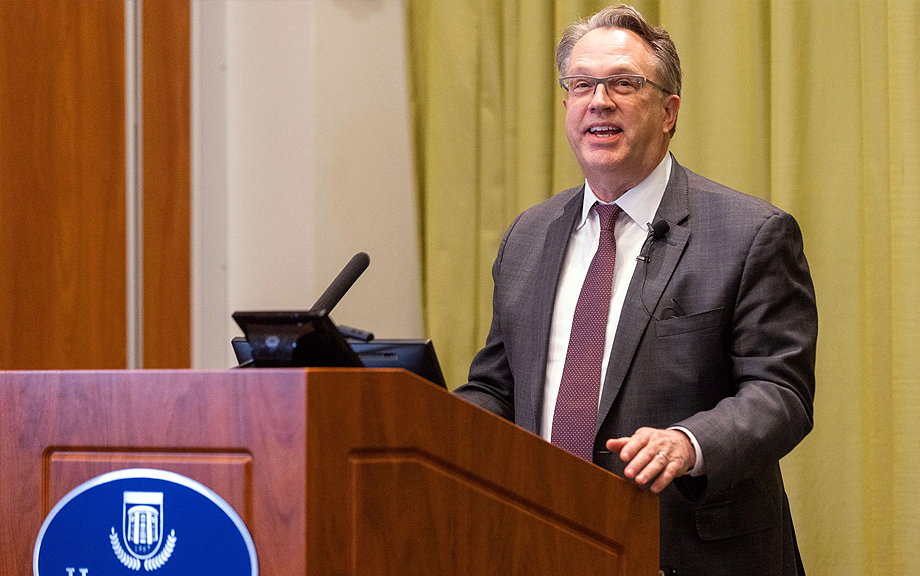 Labor
While labor attrition seems to have calmed a bit following the period after pandemic shutdowns, government officials and business owners reported challenges filling jobs, including in healthcare, education, and skilled trades. A representative of a Connecticut hospital system reported that nursing positions accounted for a large share of job vacancies. To fill the gap, the hospital hires nurses from temp agencies, which is more expensive than paying full-time nurses. Business owners also reported that mechanics and other skilled laborers remain hard to find.
On the labor supply side, the state has the sixth oldest population in the country, and local leaders say older people leaving the workforce may be contributing to labor shortages. Leaders at The WorkPlace, which coordinates training and education programs to help workers learn new skills and find jobs, said other barriers to employment include insufficient wages, challenges in transportation to job centers in lower Fairfield County, and affordable childcare and eldercare. One way The WorkPlace has tried to break down barriers to employment and navigate the pandemic is through the creation of a RemoteWorks certificate program, which provides skills and training for people to succeed in telecommuting jobs. Still, workforce development organizations say that while they have many programs available, their challenge is recruiting participants and raising awareness about their services.
To address labor challenges, Danbury has focused its attention on creating career pathways for students immediately out of high school. Along with local companies, the city reevaluates its curriculum every three years to ensure it meets the workforce needs of employers.
A recurring theme in discussions about hiring and growth was the swings in demand businesses have seen since the start of the pandemic. Business owners said that predicting demand remains a serious challenge. While a few reported that they increased wages by 25% to 30%, they said they are not able to pass along increased costs to clients with long-term contracts. Several business owners said federal pandemic aid had been a lifeline.
Housing Challenges
Fairfield county is struggling with housing affordability and inventory, with the affordability crisis leading to an uptick in homelessness and evictions. Stamford officials said the city is using a fraction of building-permit fees to pay into an affordable housing trust fund targeted at preserving and creating affordable rentals and homes. The city has mandated that 10% of new housing will be set aside for those earning up to 30% of area median income. It has also rezoned the area around its train station to encourage transit-oriented housing development. Elsewhere, Danbury is working on a city-sponsored plan to expand affordable housing.
Resiliency and Decarbonization Initiatives
At a meeting hosted by the Connecticut Green Bank, participants discussed efforts to reduce carbon-emitting infrastructure in Bridgeport's waterfront community. The Green Bank, organized by the Connecticut State Legislature in 2011, helps the state government's efforts to finance cleaner, more reliable, and more sustainable sources of energy. One example of climate-related investment in the state is the Coastal Resiliency Reserve Fund in Branford. Officials from the Connecticut Institute for Resilience and Climate Adaptation explained that the fund was launched in 2019 with an allocation from a $1 million surplus in the town's general fund, with the goal of financing public projects that will make the town more climate resilient. Going forward, a fraction of every budget will be set aside to continue building the reserve.
Engaging with Students
President Williams concluded his visit with a speech and moderated Q&A at Housatonic Community College in Bridgeport. Housatonic serves an 11-town area in southwestern Connecticut, and first-generation college students account for 55% of its student population.
In his remarks, President Williams discussed inflation, credit conditions, and the ways in which monetary policy is working to restore balance in the economy. Questions from the moderator and students focused on the high cost of food and rent, recent bank failures, loss of manufacturing and industry, and whether tighter monetary policy has an outsized effect on small businesses. Students also asked about working at the New York Fed, and what internship and career opportunities might be available.
Up Next
The New York Fed's next regional visit will be to the U.S. Virgin Islands. For economic data, research, and information on community engagement in the Second District, see Regional Economy.
Shawn Phillips is the head of external engagement in the Communications and Outreach Group at the New York Fed. She is responsible for broadening and deepening relationships with civic, business, academic, and other stakeholders within the Federal Reserve's Second District.
Andrea Grenadier is an associate director of external engagement in the Communications and Outreach Group at the New York Fed.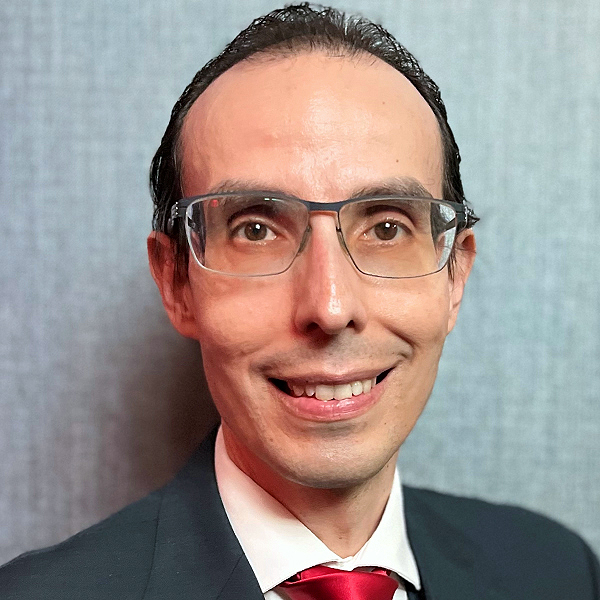 Javier Silva is a community development senior outreach associate in the Communications and Outreach Group at the New York Fed. He focuses on issues related to climate, health, small business, and Puerto Rico and the U.S. Virgin Islands.
Ellen Simon is a corporate communications specialist in the Communications and Outreach Group at the New York Fed.
---
The views expressed in this article are those of the contributing authors and do not necessarily reflect the position of the New York Fed or the Federal Reserve System.