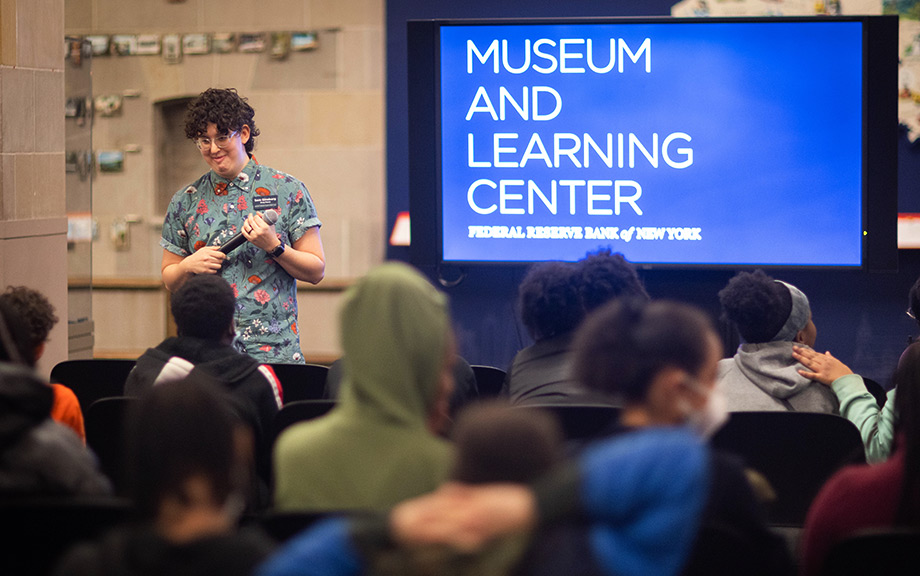 About 1,800 students, teachers, and chaperones from the Newark public school system visited the New York Fed's Museum & Learning Center over three months this spring. The visits were part of the New York Fed's outreach efforts to engage every seventh-grade class in the New Jersey school district, the third largest in the New York Fed's Second District after New York City and Puerto Rico.
"Looking at the outside of this building, what would you think is inside?" Heather Daly, director of economic education at the New York Fed, asked one of the classes.
The students answered quickly. "Rich people!" "Security!" "A prison!"
Her team then explained what really happens at the New York Fed. Economic educator Felicia Noth asked what the students and their families do at a bank. Again, the answers came quickly: Deposit money, withdraw it, get loans. "That's what banks do here," Noth told the class. "The Federal Reserve is a bank for banks."
The goals of the 17 visits align with how the New York Fed approaches economic education: to teach students what a central bank is, to explain how the Fed affects their lives, and to encourage them to consider careers in economics as they plan their futures.
"Our dream is for you to be our colleagues," Daly told the class. "Think of this as a place you might work someday."
Each two-hour visit included a tour of the Museum & Learning Center, with lessons on topics including monetary policy and cash operations.
Students also learned about the Gold Vault, and passed around the metal overshoes staff wear to protect their feet when handling heavy gold bars. "The weight of the gold is why the vault is built on the bedrock of Manhattan," Noth told the students.
"I did not know what we would do at a BANK," one teacher said. "But this is one of the best field trips ever."
The Museum & Learning Center, which was closed for the pandemic, reopened on March 1 for a limited number of guided visits for school and community groups. For the Newark school visits, the following resources—available on the New York Fed website—informed the learning activities:
Explore all the lesson plans and resources developed by the New York Fed.
Ellen Simon is a corporate communications specialist in the Communications and Outreach Group at the New York Fed.
---
The views expressed in this article are those of the contributing authors and do not necessarily reflect the position of the New York Fed or the Federal Reserve System.