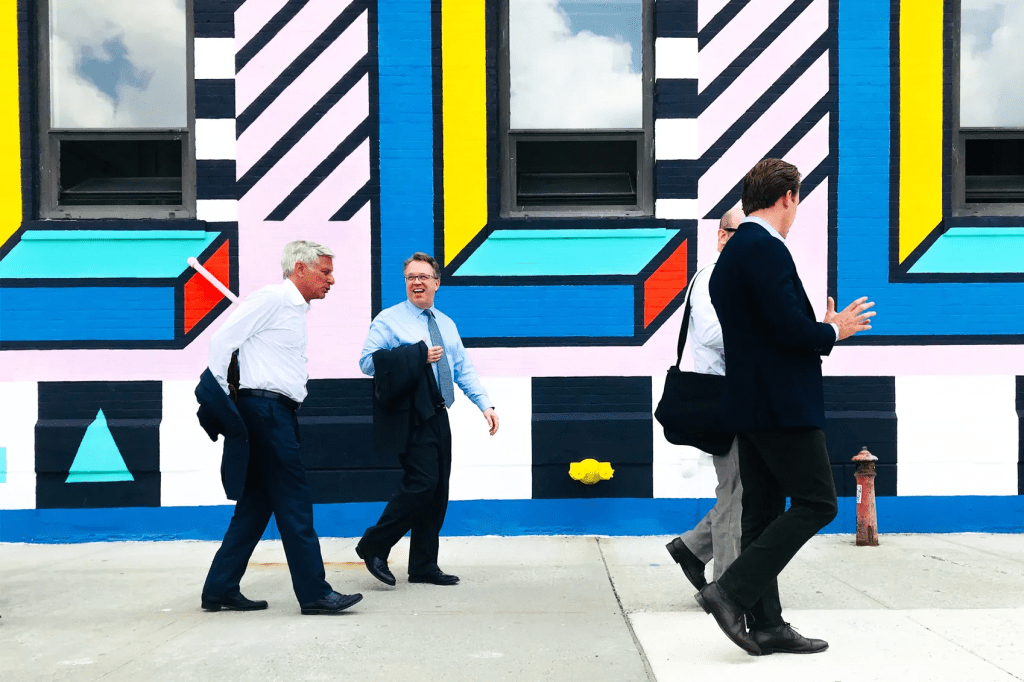 For his first regional roadshow as New York Fed President, John Williams spent the day in New York City's borough of Brooklyn, meeting with local stakeholders to learn about the issues their communities face. Recurring themes throughout the day included jobs, housing, and other issues related to equitable growth and gentrification; small business concerns such as access to credit; and economic growth factors such as investment and workforce development.
Equitable Growth
We heard from stakeholders across the borough that long-term residents and small business owners in many neighborhoods are struggling to maintain their footing because of rapidly increasing rents and real estate values. These forces are closely related to the borough's recent economic growth, raising the important question of how to embrace the Brooklyn renaissance while limiting displacement.
Two factors that are closely related to the issue of gentrification are jobs and housing, and participants in a business roundtable made the point that high housing costs mean that even those with quality middle-class jobs can find it hard to make ends meet. Some even said that the scarcity of affordable housing has led to staffing issues. Others noted that while institutions of higher education contribute a lot to Brooklyn's cultural and economic environment, the high cost of living means that students might not be able to stay in the area after they graduate.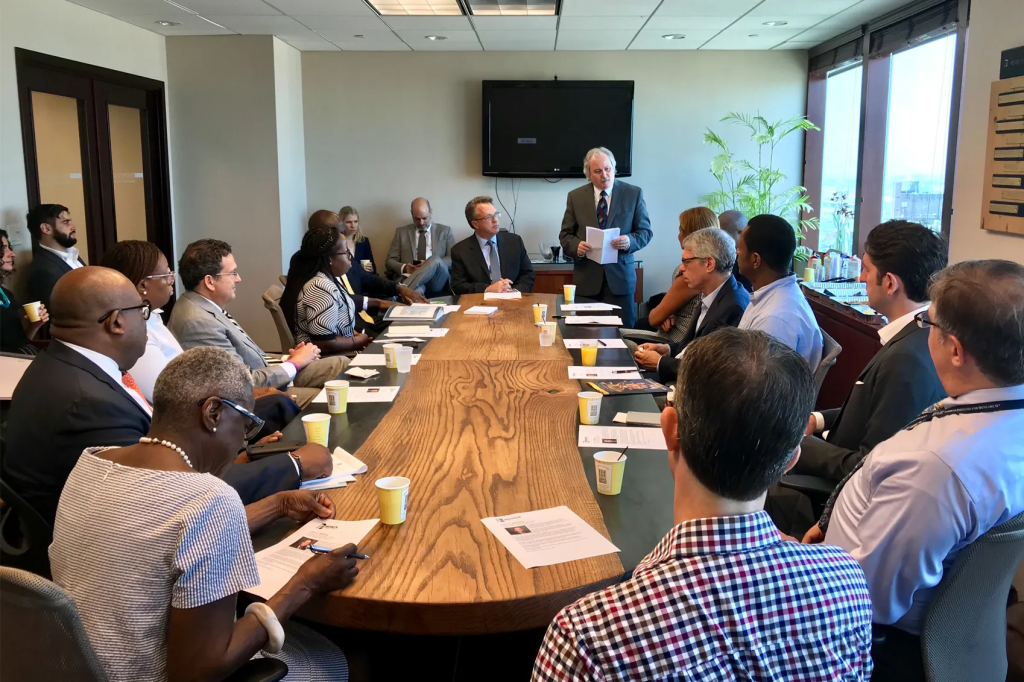 Stakeholders are using various strategies to address the effects of gentrification. In central Brooklyn, Bedford-Stuyvesant Restoration Corporation is placing greater emphasis on building household assets in affected communities. Its executive director, Colvin Grannum, pointed out that families with modest amounts of savings — even $500 to $1,000 — see better outcomes in areas such as health, education, and housing than those with no assets. The community development corporation is working to address systemic issues that prevent low- and middle-income residents from building and keeping wealth.
Meanwhile, activists in Cypress Hills are developing a pilot program to legalize basement apartments. This effort has the potential to expand rental units within the existing housing stock while providing homeowners with additional income. We also learned that religious institutions are seeking to leverage real estate they own to create affordable housing — particularly for senior citizens, who are most vulnerable to displacement. Some of these institutions are also exploring the possibility of creating community development financial institutions (CDFIs) to expand access to capital and financing.
In addition, advocates cited a need to raise awareness among long-term residents and small business owners of the services provided by nonprofit organizations, especially those of community development corporations that work to reduce poverty and prevent displacement.
In Brooklyn neighborhoods that have not experienced rapid growth and gentrification, local leaders and stakeholders may be in a position to prepare for change and develop strategies to minimize displacement, according to community advocates.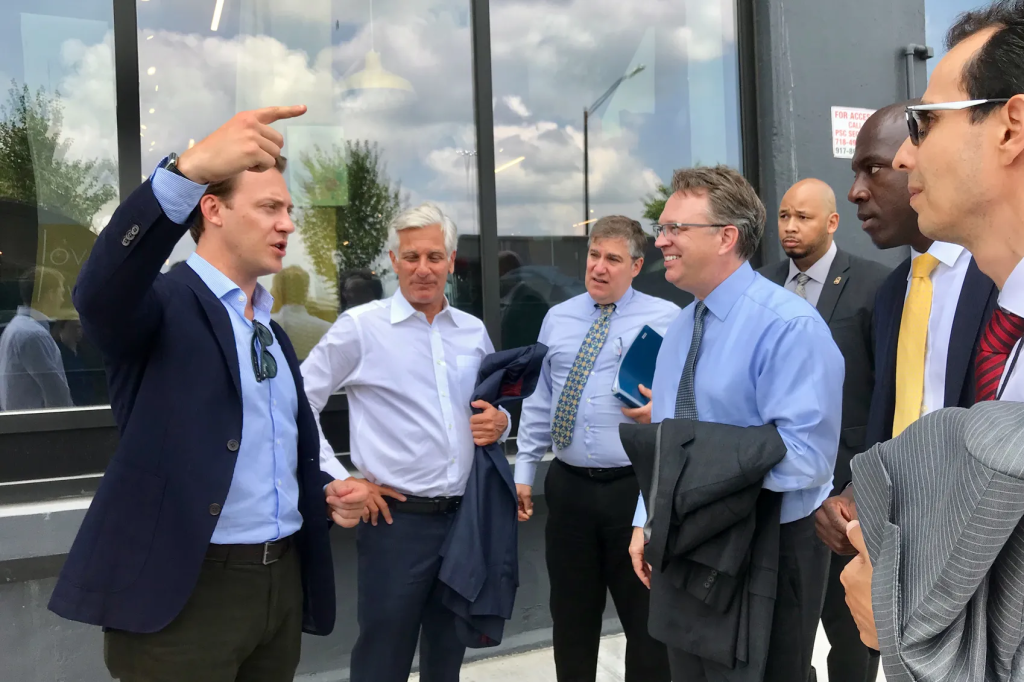 During a meeting with community advocates, President Williams reaffirmed this idea, stating that "any strategy should first involve all community groups and stakeholders to help think about how the whole community can prosper."
A holistic approach might include strategies such as transportation-oriented development to ensure residents have easier access to job opportunities, training, and education. Advocates stressed the value of forward-looking, longer-term planning, as many communities have found that change can be very difficult to manage once market forces begin to take hold.
Small Business Concerns
Small businesses are a major driver of employment and economic activity, yet they often find it difficult to secure financing. At a business roundtable, the director of a local business improvement district spoke of the need for increased access to capital, particularly for smaller businesses and start-ups with less than $150,000 in revenue. One participant mentioned community development venture capital as a potentially useful vehicle.
Business advocates noted that "mom and pop"-type business in particular often need assistance with financing. The Brooklyn Chamber of Commerce has developed a dedicated fund, Brooklyn Alliance Capital, which is a CDFI that provides financing for minority- and immigrant-owned small businesses. Greater access to capital for smaller businesses can help commercial corridors in neighborhoods remain stable.
Advocates also noted that many small businesses — particularly retailers — struggle with high rents. At the same time, commercial landlords with vacancies might hold out for more lucrative opportunities as neighborhoods grow quickly and rental rates soar in the residential real estate market. This combination might lead to an increase in retail vacancy rates, which can have economically depressing effects. That's an ironic twist, because when these businesses become victims of a neighborhood's success, the neighborhood itself ends up suffering when they are lost.
Workforce Development
Workforce development emerged as an important theme throughout the daylong visit, and our tour took us to the birthplace of an innovative model in this area.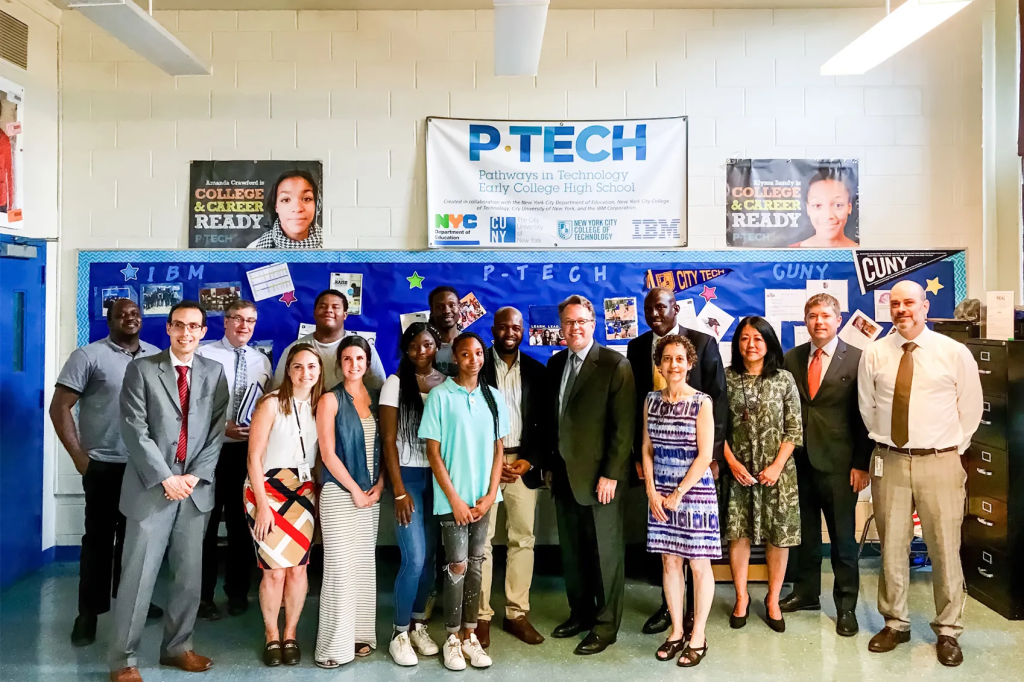 Pathways in Technology Early College High School (P-TECH) is a six-year high school in Crown Heights that brings together K-12 education, higher education, and employers to provide students with the academic, technical, and professional skills necessary for middle-skills jobs. Through the P-TECH program, which links technical training and industry needs, students earn a high school diploma and an associate's degree, and they gain relevant work experience.
The program, which started with this school in 2011, focuses on historically underserved populations. It comes at no cost to the students and does not include a test for entry. The model has now expanded across New York State (NYS) and into several other states and countries. Robin Willner, Director of the Leadership Council for NYS P-TECH, stressed that workforce development programs are best positioned to succeed when employers collaborate with educators, universities, and training programs to develop job placement strategies. Data from the Business Council of New York State show that Brooklyn P-TECH had a 93% graduation rate in 2017, versus 70% for New York City schools. Meanwhile, 53% of P-TECH students attained a Science, Technology, Engineering and Math Associate of Applied Science (STEM AAS) degree, versus a 15.4% graduation rate (within three years) for City University of New York community colleges.
In another local example of workforce development, the Brooklyn Navy Yard Development Corporation is connecting high-tech and manufacturing startups with local colleges through its employment center in an effort to increase opportunities for residents. Over the long term, the Brooklyn Navy Yard seeks to create resilient, sustainable employment.
Looking Ahead
With Brooklyn in a period of rapid growth and investment, local stakeholders are working to ensure that prosperity is widely shared. At the New York Fed, we are working with communities across the Second District to support small business, workforce development, community development finance, and the Community Reinvestment Act (CRA). Please visit our website to learn more about these efforts.
Our next regional visit will be to Buffalo and Niagara Falls next week. For more about the purpose of the New York Fed's regional visits and what we heard on earlier trips this year, see our posts on Queens, the North Country region, Syracuse, Ithaca, and Rochester, and Puerto Rico and the U.S. Virgin Islands.
This article was originally published by the New York Fed on Medium.
---
The views expressed in this article are those of the contributing authors and do not necessarily reflect the position of the New York Fed or the Federal Reserve System.