When communities are affected by natural disasters, banks can play a critical role in the recovery thanks in part to the Community Reinvestment Act (CRA), a regulatory framework that requires financial institutions to lend, invest, and offer services to low-and moderate-income communities in which they operate. Banks can help stabilize and revitalize neighborhoods, promote economic and small-business development, repair deteriorating infrastructure, and create long-term employment opportunities for all.
In September 2017, Hurricane Maria struck Puerto Rico as a Category 5 storm, resulting in unprecedented damage, including the destruction of homes, businesses, and vital infrastructure. In fact, the Puerto Rican government has estimated a total cost of recovery of approximately $94.4 billion.
Banks with branches or retail operations in Puerto Rico were quick to respond and have channeled much needed investments to critical areas. However, the scope of the disaster is enormous, and recovery will require the support of new players.
In January 2018, the Federal Reserve Board of Governors, along with the Federal Deposit Insurance Corporation and the Office of the Comptroller of the Currency, issued the Interagency Statement on CRA Consideration for Community Development Activities in the U.S. Virgin Islands and Puerto Rico Following Hurricane Maria. This statement established that financial institutions located outside of Puerto Rico and the U.S. Virgin Islands can receive CRA credit for supporting certain community development activities on the islands. These efforts can include community services or affordable housing for low- or moderate-income individuals, or activities that promote economic development by financing small businesses or small farms. (Regulatory agencies issued a similar statement following Hurricane Katrina, providing a critical incentive for banks outside of the New Orleans area to play a role in the recovery.)
The Launch of Investment Connection and the CoDeFi Progression Model in Puerto Rico
Given the unique opportunity to enhance community development investments, the New York Fed is launching the first iteration of its Investment Connection program in Puerto Rico. Since 2011, Investment Connection — a program developed by the Kansas City Fed — has helped match financial institutions, corporate enterprises, and community foundations with organizations that have CRA-eligible community and economic development proposals in need of an investment, grant, or loan. The New York Fed's Investment Connection program is slated to kick off in Puerto Rico this fall, and we will be reaching out to banks across the country to participate.
This program is a critical step in the New York Fed's Community Development Finance (CoDeFi) Progression Model, created to support community development financing in the Fed's Second District by identifying community development opportunities and attracting investment capital to the region. More information about the CoDeFi Progression Model can be found here.
In Puerto Rico, the goal of the CoDeFi project is to strengthen the commonwealth's capital absorption framework by increasing the capacity of local organizations and connecting them to mainland financial institutions for new funding opportunities.
In 2018, the New York Fed began conducting listening sessions and meetings with local stakeholders. We found both a current lack of private investment in community development efforts, as well as a need to build the capacity of community development organizations and their networks in Puerto Rico. Furthermore, while there is interest in funding recovery activities, banks without operations in Puerto Rico lack an understanding of community development priorities and relationships with potential intermediaries or beneficiaries of funding. These findings supported the need for a program like Investment Connection in Puerto Rico.
To ensure that the program is inclusive and considerate of the various needs of local organizations, the New York Fed is collaborating with the Fundación Comunitaria de Puerto Rico and the nonprofit organization Inclusiv to implement the CoDeFi Progression Model. Both organizations have a long history of supporting community development and capacity-building initiatives in Puerto Rico.
Together with our partners and the Association of Executives of Cooperatives of Puerto Rico, the New York Fed hosted the first CoDeFi Community Development and CRA Programming Workshop in Puerto Rico on May 30, 2019 in San Juan. More than 80 representatives from nonprofits, foundations, community development finance institutions (CDFIs), and cooperatives attended the program.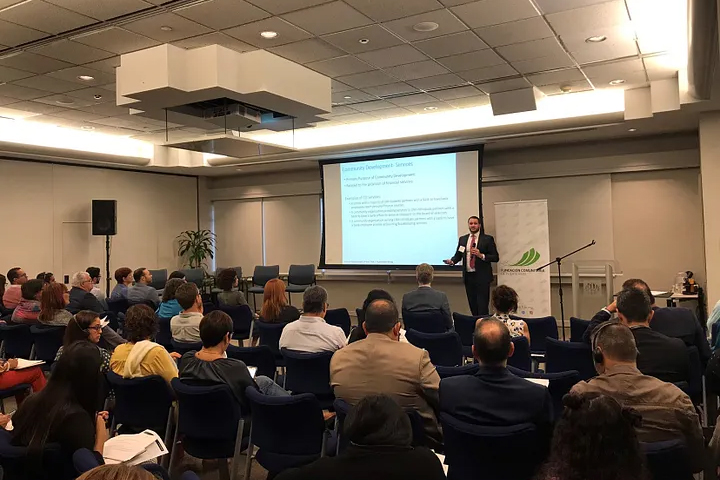 The workshop provided an overview of the CRA, including a special focus on the role of the CRA for a disaster-designated area. The workshop also featured a panel of representatives from banks that had provided loans, investments, or services to organizations in Puerto Rico following Hurricane Maria. This panel included a mix of institutions, some with existing operations in Puerto Rico and others with none. Panel participants provided examples of how their firms worked with partner organizations and provided investment for various community development projects, including the redevelopment of a hospital and an investment in a local CDFI.
The New York Fed will continue to provide programming to organizations in Puerto Rico ahead of a call for proposals for the Investment Connection program in October.
For more information on the CoDeFi Progression Model program in Puerto Rico and access to materials and presentations from the May 30 event, visit nyfed.org/codefi.
This article was originally published by the New York Fed on Medium.
---
The views expressed in this article are those of the contributing authors and do not necessarily reflect the position of the New York Fed or the Federal Reserve System.