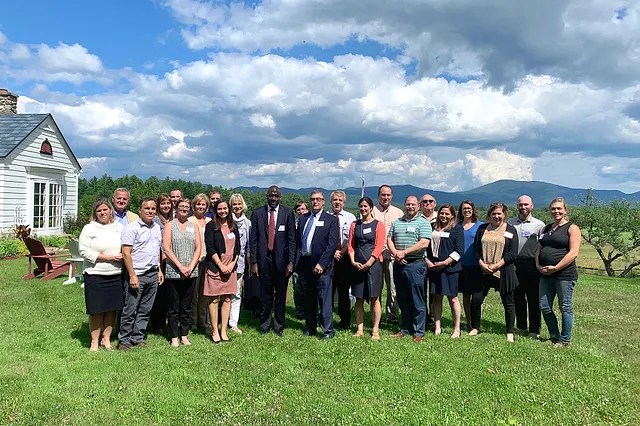 As part of its continued efforts to understand displacement pressure and regional change in the Second District, the New York Fed held a listening session on equitable growth in Lake Placid, New York, on July 23.
The meeting, hosted in collaboration with the Adirondack North Country Association (ANCA), brought together 25 stakeholders, including nonprofit leaders, housing advocates, foundations, local government officials, educators, and workforce development entities, all focused on equitable growth and anti-displacement initiatives in New York's North Country region.
This meeting was the second in a series, following a New York City listening session in June. It began with a regional update from a New York Fed economist, followed by presentations on local housing trends and an overview on neighborhood change in the region from nonprofit leaders. Experts then participated in a roundtable discussion to offer their perspectives on housing, workforce and education — and potential strategies to help combat displacement and build more inclusive communities.
Here's what we heard:
Geographical Challenges
Broadly speaking, the geography and rural nature of the Adirondack/North Country region present unique challenges to economic development. The region accounts for a large share of the land area of New York State, but it is the most sparsely populated. Winters are long and cold, the construction season is short, and many people have to travel fairly long distances to their jobs. The Adirondack Park covers much of the region, and development is limited to the 103 communities within this protected landscape. Travel through the mountainous landscape can be difficult, with few public transit options available. At the same time, the lakes, rivers, and mountains are spectacularly beautiful, and the area attracts about 10 million visitors every year. This influx has begun adding pressure to stressed housing markets in many communities.
Housing Affordability
The lack of affordable and quality rental properties is putting pressure on long-term residents in the region. One trend in tourism-oriented communities is that wealthy homebuyers and out-of-town landlords are buying multiple properties to convert them into expensive, short-term rentals for vacationers — effectively removing these units from the supply of housing for longer-term residents. As a result, these renters find they have fewer options or are priced out of the market, or they turn to lower-quality housing stock that may be energy-inefficient or in need of rehabilitation.
The majority of homes in the region were built before 1979, and many are poorly insulated, leading to high heating costs that leave renters financially constrained. One participant commented that many residents — including low- and moderate-income populations and the elderly — have paid up to $600 a month to heat their homes in the winter. Another problem with older housing is potential health hazards such as lead paint and asbestos, which sometimes contribute to vacancies. Meanwhile, a shortage of contractors and construction workers, a short building season, and high costs of transporting goods such as building materials mean that aging structures are not prioritized for rehabbing and retrofitting.
Population Decline
The number of younger residents in the region is declining, while the percentage of older people remains higher than that of the U.S. as a whole. There is evidence of this worrisome trend in school enrollments, which have declined over the last 10 years.
Employment
Employers face challenges in attracting workers to the North Country due to limited rental options and access to reliable forms of transportation. The region attracts workers with J-1 Visas for part-time positions in the summer and winter months to support the tourism industry, but housing options for them are also limited. A lack of affordable housing represents a barrier to growth for companies in critical industries, including construction, manufacturing, agriculture, and tourism, as well as for anchor institutions such as hospitals and colleges.
One participant mentioned that in one of the largest North Country communities, the median price of a single-family home is $287,000, while the area median income (AMI) is $36,000, which could indicate relatively high debt-to-income ratios. Meanwhile, many residents work at least two jobs to make ends meet, and well over a third of households in the region struggle to afford basic necessities.
Strategies for Equitable Growth
To address these challenges, some businesses have begun to transport workers from various parts of the region and have contracted with hotels to keep workers overnight or on a temporary basis. Meanwhile, certain nonprofits are funding land banks — which focus on converting vacant, abandoned, or tax-delinquent properties into productive use — to lock in affordability. Mobile homes are another area of focus, where retrofitting and rehabbing could help to increase housing options and address the issues of affordability and energy-efficiency.
Nonprofit organizations are independently undertaking studies focused on housing affordability and "zombie" properties, or vacant, deteriorating homes with owners who may be experiencing financial difficulties. Still, a region-wide assessment of housing needs and a consolidated housing plan could help nonprofits, government officials, foundations, and advocates develop policies and tools to build inclusive communities across the North Country.
The New York Fed will continue the conversation around trends and strategies for equitable growth in the Second District, with similar meetings planned for Buffalo and Newark later this year.
This article was originally published by the New York Fed on Medium.
---
The views expressed in this article are those of the contributing authors and do not necessarily reflect the position of the New York Fed or the Federal Reserve System.