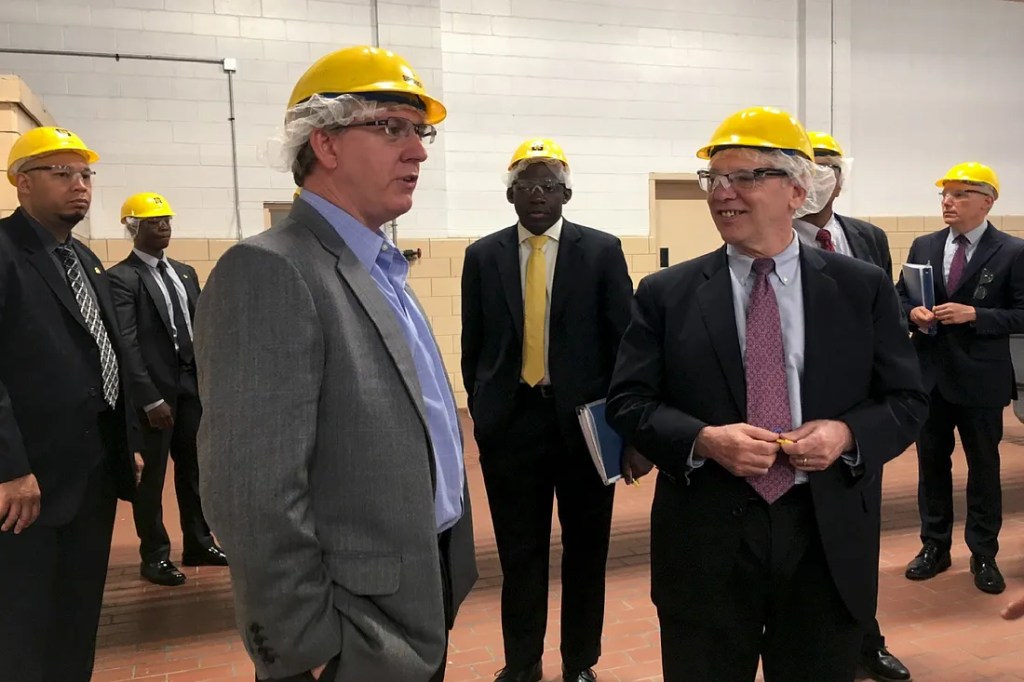 For our third regional visit of the year, we traveled to Syracuse, Ithaca, and Rochester. The stops on our trip varied widely — from visiting a drone accelerator site, to meeting with members working on an anti-poverty initiative. Throughout, we heard from community leaders about their efforts to address challenges, such as developing a strong workforce and tackling poverty. We also learned about the promising industries in their communities and their hopes for future growth.
Here, we would like to share key takeaways from this roadshow.
Importance of Workforce Development and Education
The trip began at Onondaga Community College (OCC) in Syracuse, with remarks by President Dudley about the challenges workers face as they try to adapt to an evolving economy. President Dudley emphasized that because "there is no silver bullet or one-size-fits-all solution," a holistic approach — focused on partnerships, programs, and placement opportunities — is critical.
Throughout the rest of the roadshow, we heard firsthand from community leaders who said that residents are falling behind in the workforce and described efforts to help them obtain jobs. OCC leadership and Syracuse workforce development practitioners underscored the need for more programs that "demystify work" and provide soft skills training, especially for students, who do not have prior experience in professional environments. Syracuse community leaders also expressed concerns about the quality of jobs available, noting that most jobs do not provide living wages.
At OCC, and later at Monroe Community College (MCC) in Rochester, academic leaders said that a growing number of students are unprepared for college-level courses. They explained that remedial courses — often taken by students over the summer in an effort to get up to speed before starting school — simply are not enough to overcome a decade of personal and educational challenges. This creates additional burdens on students' time and finances, dampens college completion levels, and impacts future job potential.
For students, access to basic services can also pose a significant barrier to staying in school and graduating, and many higher education institutions now offer "wraparound services," like childcare and transportation. Representatives from OCC also underscored the importance of the State University of New York's Equal Opportunity Program (EOP) and its success in helping students bridge financial gaps. This aligned with what we heard from Rochester community leaders, who stressed the significant education gaps they observed — in terms of learning the curricula itself, but also the necessary life skills for self-sufficiency, such as managing personal finances.
At Genesee Brewery, New York State's oldest brewery, we learned how the private sector is participating in this effort. Through an investment by New York's Empire State Development, Genesee is working to expand its facilities, create new jobs, and collaborate with MCC to train students to work in the industry.
Retiring Baby Boomers and Attracting New Workers
Another recurring concern regarding the future of the workforce is that baby boomers are retiring. The "graying" of the workforce means that local employers are seeing their employees retire more quickly than they can find qualified applicants to fill the vacancies.
For example, members of both the Central New York Regional Economic Development Council (CNYREDC) and Rev: Ithaca Startup Works (the Rev) separately noted that Syracuse and Ithaca are experiencing this challenge. Representatives of CNYREDC explained that Syracuse is doing as much as possible with its existing workforce, but needs to find ways to grow the pool of potential workers. They also discussed efforts to cater to different populations in order to make the city an even more attractive place to work and invest. Council members described the successful revitalization of the downtown area, noting a significant increase in residents, but also highlighted the need to improve K-12 schools, which is an important neighborhood asset for young professional with growing families. For senior populations, they are considering ways to invest in geriatric resources so that retirees choose to stay in Syracuse. Council members also noted that the public transportation system is not able to support the local economy in Syracuse, and that it is a barrier to employment for community members without access to a car.
At the Rev meeting, representatives from Ithaca also expressed concerns about lack of access to transportation systems. They said it was an impediment to business growth and hindered their ability to retain workers. Ithaca is one of the largest communities in the country without direct access to an interstate highway. Participants also expressed the desire to expand the Ithaca Tompkins Regional Airport, which could bring more diverse talent to the region.
Concentration of Poverty: Many Tales of Two Cities
Workforce development is also a critical component of poverty alleviation efforts. Especially in Rochester and Syracuse, poverty is overwhelmingly concentrated in specific areas, and there is a dramatic divide between the "haves" and "have nots." With this in mind, efforts to develop more inclusive economies were a key focus of this trip. Rochester Mayor Lovely Warren described the environment in Rochester: "Poverty is so concentrated in Rochester that you can live all your life here and not see it. You can drive through it, around it and over it. But it's not until you go into these communities that you realize there is a problem."
The City of Rochester Credit Profile issued by the New York Fed this fall underscored Mayor Warren's point that overall prosperity is masking underlying inequality. This prototype report, highlighted during this trip, uses community credit data to assess economic well-being at a neighborhood level in order to help policymakers and community leaders allocate resources and monitor progress in a targeted way. In an interview with WRVO, a Syracuse NPR station, President Dudley noted that he expects community credit data in Syracuse would be similar to data in the Rochester report.
At 16.4%, Rochester has the highest rate of extreme poverty of any comparably-sized U.S. city. (Extreme poverty is defined as being below half of the federal poverty level.) This level has been steadily increasing, and more than half of children in the city of Rochester live in poverty.
The Rochester-Monroe Anti-Poverty Initiative (RMAPI) is an unprecedented community-wide effort to reduce poverty in the region by 50% over the next 15 years — a dramatic cut that would still only bring Rochester to the average poverty level for U.S. cities of its size. In a meeting with RMAPI, members explained that their "collective impact approach," which emphasizes coordination between key private and public actors, has been essential to its success so far. RMAPI members also highlighted an IBM Smarter Cities Challenge report released earlier this year, which found that Rochester is "program rich but results poor" — meaning that, although many programs exist, a lack of coordination "prevents families from receiving the comprehensive set of services they need to leave poverty behind for the long term." In the coming years, RMAPI is working toward encouraging greater coordination, developing a more robust service system, and raising the number of families with access to living wage employment.
The New York Fed team returned to Rochester in early November for a meeting with Mayor Warren and staff for a more in-depth discussion on the Rochester Credit Profile and the Community Reinvestment Act (CRA), a law that contributes to community development by requiring banks to lend, invest and offer services to low- and moderate-income communities in the areas where they operate.
Comparative Advantages and Innovative Industries
Issues related to poverty, workforce development, and transportation infrastructure notwithstanding, we also heard about each city's comparative advantages and innovative industries.
At the Tech Garden, an organization in Syracuse that supports local technology startups, we learned about the emerging drone industry. Formally called "unmanned aerial systems," drones hold the promise of widespread applications — from shipping, to disaster relief, to building inspections — and Syracuse is working to be at the forefront of this work. At the Tech Garden's drone accelerator site, we learned why. The Syracuse region's primary advantage is its "drone corridor" — a designated area where drones can fly for testing and development. This zone has less air traffic, a diverse airspace of urban and rural settings, and many different weather conditions.
Meanwhile, at the Rev, we learned that Ithaca is fostering an entrepreneurial community and is beginning to see an increase in strategic investment. At Cornell's College of Agriculture and Life Sciences, we saw new technologies that are improving greenhouse production and learned about efforts to improve food productivity.
Finally, during meetings in Rochester — with the New York Fed's advisory council, the Upstate New York Regional Advisory Board (UNYRAB), and the American Institute for Manufacturing (AIM) Photonics — participants highlighted the importance of the photonics industry for the region. Per AIM Photonics: "Photonics is the science of using and controlling photons, the smallest unit of light. It allows for faster transfer of data than traditional electronic circuits." This science is used in telecommunications, laser-based radar and more. Participants highlighted that, given Rochester's long history of innovation, a portion of Rochester's workforce is very highly skilled with technical expertise in this area. The photonics industry is a promising sector for the Greater Rochester region, with the potential to create a variety of new employment opportunities. In fact, in 2015, former Vice President Joe Biden and Governor Andrew Cuomo announced that Rochester had won a national competition to serve as home base to AIM Photonics. Over $600 million, coming from both public and private partners, will be invested into AIM Photonics.
An Optimistic, Psychological Shift
Perhaps even more critical than the comparative advantages noted above is the impact that they can have on the outlook of people who reside in each city. Throughout the trip, we heard anecdotes of a psychological change underway in Upstate New York. Residents feel more optimistic and confident about investments being made in their communities — and that's being reflected in a stronger willingness to invest, to go to school, and to grow their businesses in the area.
For example, UNYRAB Board members discussed the changes underway in Buffalo and the remarkable amount of positive momentum resulting from the city's downtown revitalization. One board member observed that many people who grew up in Buffalo and left are now looking to return. Another board member said there was a dramatic increase in the number of MCC students transferring to Buffalo State because students were more excited about moving to Buffalo. This is the kind of mental shift that other cities in upstate New York are hoping to inspire with their economic development efforts.
President Dudley underscored this shift during a Democrat & Chronicle interview, saying "My view is, things are actually better than they were five or 10 years ago… one, because the economy as a whole is better, and two, I think the psychology is better. [People in Rochester are] focusing on, 'What are our comparative advantages, and how do we move forward?' I think that change in psychology is really important, because your chances of succeeding go up dramatically if you actually think you can…be successful."
Learn more about the purpose of the New York Fed's regional visits and what we heard on earlier trips this year to Queens and the North Country region.
This article was originally published by the New York Fed on Medium.
---
The views expressed in this article are those of the contributing authors and do not necessarily reflect the position of the New York Fed or the Federal Reserve System.